The Costco East fan blog is excited to announce that Michael Stetch & jonesmurrell are the winners of the $100.00 gift cards from our Que Pasa Jalapeno & Lime organic tortilla chip post!

CONGRATULATIONS Michael & jonesmurrell!!!
Not only are Que Pasa tortilla chips delicious, they are authentically crafted from whole grain organic corn ground between hand-cut Mexican volcanic lava millstones and are gluten free, nut free & vegan…I don't know what more you could ask for except perhaps some tasty salsa, guacamole and a handful of friends to share them with.
The NEW Que Pasa Organic Jalapeno Lime Tortilla chips are on sale at your local Costco warehouse for $4.39 until Oct. 24th 2021 so get 'em while they're caliente! (*price may vary at some locations)
Welcome to the Costco Weekend Sales Update where I'll keep you in the loop on all the awesome sales Costco releases for the Weekend! I'll post them here and on our Facebook page for you to enjoy.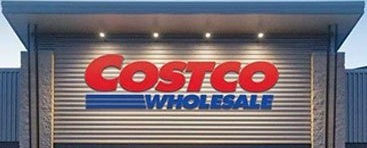 If you'd like to skip ahead to the comments section, click here!
Jennifer in Kingston, you are very funny… No I haven't taken any pictures of Chocolate bars or candy in my cart for a while, but what happens in Costco stays in Costco right?
Actually that's not true, what happens at Costco are sales, and all of those sale pictures end up on this blog! So my chocolate & candy secrets are not safe… I have been really good about not bringing any candy home lately, though I will have to get some for Halloween… For the kids obviously!
So I may be temped to grab the Mars, Wrigley, Starburst & skittles pack of 155 on sale for $5.50 off @ $12.99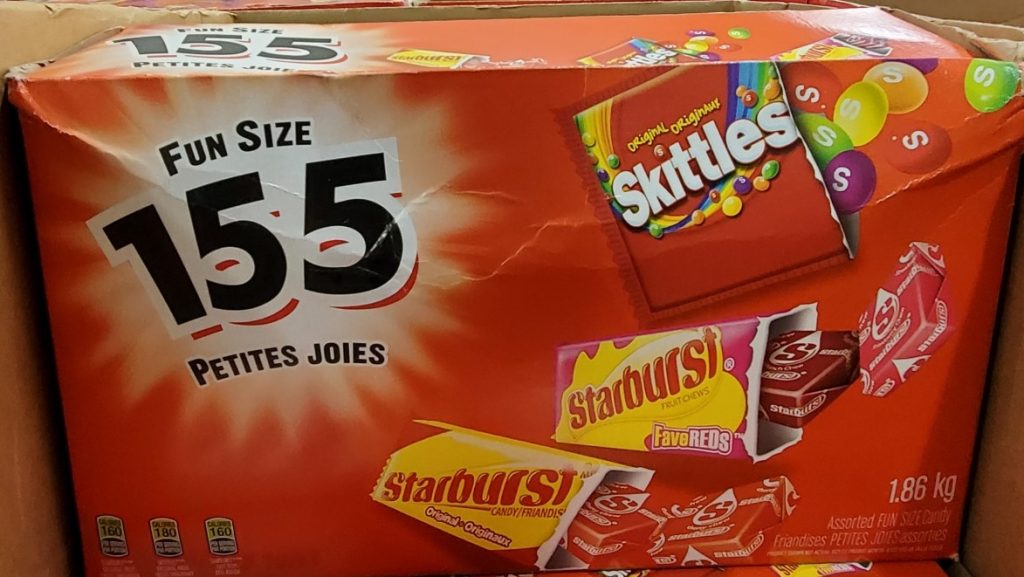 It's a good thing those aren't sour skittles otherwise Jenn and Jan you'd be seeing those pictures being taken in my cart.
On the Healthier side of things, I was really excited to see this AeroGarden counter top garden today!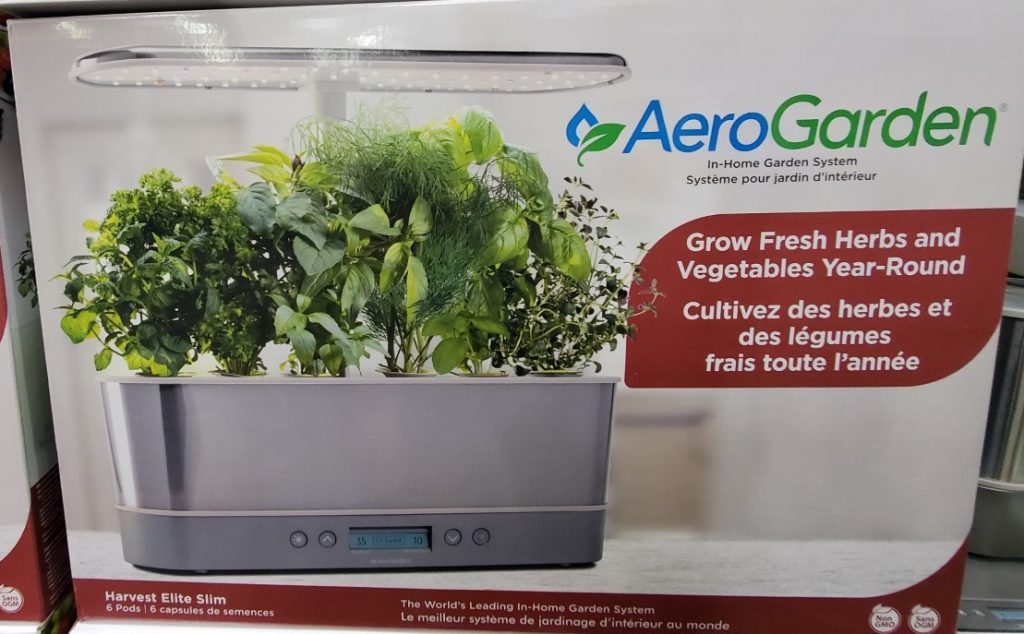 This is the first time I've seen these at Costco (current price $139.99) and it's ironic because I was just talking to my sister last night about wanting to grow lettuce inside all winter… Spooky coincidence? Or perhaps just good timing.
Anyhow, this one comes with 6 herb seed pods, but you can order all kinds of different pods online (i.e. lettuce) And even order blank pods so you can grow your own seeds. I'm absolutely going to be grabbing one of these. Any of you readers out there have experience with this or other indoor garden kits?
Here's a peek at a few of the sales this weekend.
Freybe Pepperoni preservative free 2 x 450 g -$3.00 @ $12.99
Mars Wrigley Starburst & Skittles pack of 155 -$5.50 @ $12.99
Kellogg's Froot Loops 1.1kg -$2.00 @ $6.99
OTTLIGHT wireless charging LED lamp -$8.00 @ $31.99
IceTrax traction aid sizes S/M – L/XL -$3.00 @ $10.99
Sony Extra Bass bluetooth speaker -$10.00 @ $49.99
Huggies Natural care plus baby wipes are still going to be on sale for $7.00 off @ $21.99 until the end of the day Sunday folks, so if you need 'em now is a great time to get stocked up!
The Razer Power Up V2 Keyboard Bundle With Mouse, Pad And Headset was another new item today, and probably a perfect gift for the PC gamer in your family… Or a gift for myself at some point soon.
Maybe I'm a weirdo, but I have a strange love for Keyboards and a mouse that have fancy lights on them… I don't know why folks, I just do. They look futuristic and fancy… That's my opinion and I'll leave it at that.
I'll also leave you with this picture of Ewok and Dexter from this morning.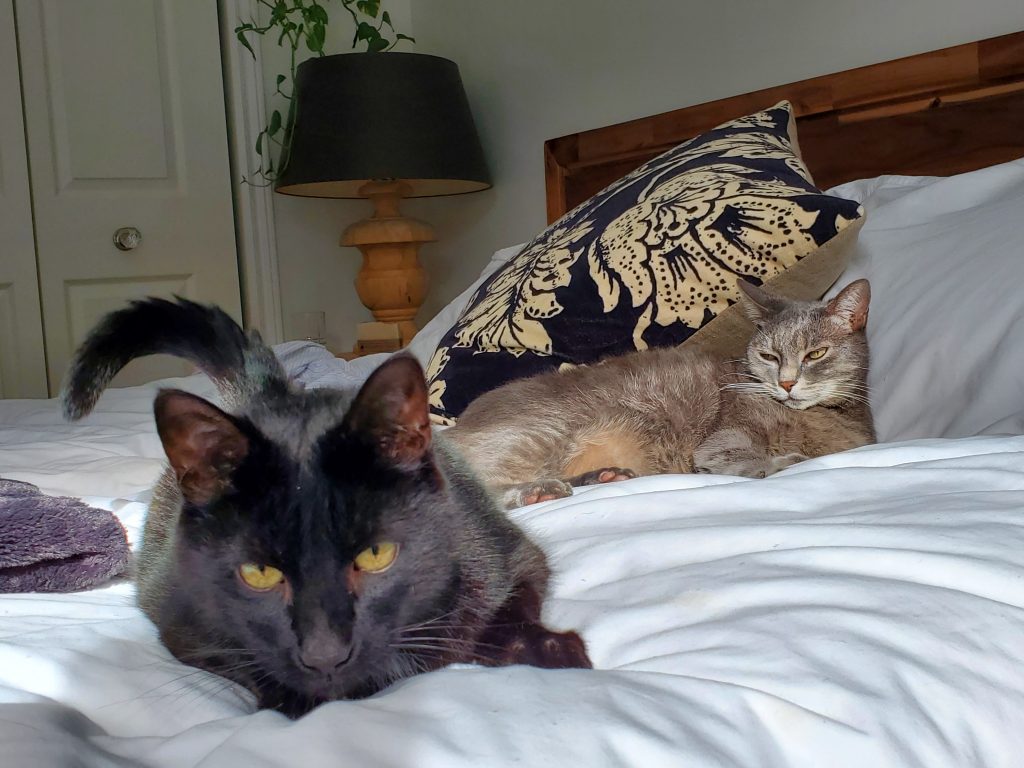 They make it so hard to get out of bed some mornings.
Enjoy your weekend folks, stay safe, healthy and as always…
Stay Calm and Costco on!
As we're easing into Fall 2021 and the potential 4th wave of COVID-19 I think it's important to remember that we're not out of the corona virus weeds yet, and each province has their own Health recommendations based on the provinces individual risk assessment and I would recommend that you follow the recommendations for your specific province. Information can be found at the following websites.
Newfoundland COVID-19 information
New Brunswick COVID-19 information
Nova Scotia COVID-19 information
Go here for the latest Costco Coronavirus updates: https://www.costco.ca/coronavirus-response.html
So there you go, a little reading material for you.
Be kind, be safe and stay healthy!
Please note:
The price at your local Costco takes precedent (or precedence) over the prices listed on this blog.
Costco liquidation/Manager's Special items (ending in .97) vary from store to store.
An asterisk (*) on the price tag means the item is not being re-ordered.
If there is something you really want, ***double check the expiry date*** as some Costco sales items do end mid-week.
***This is a fan run, independent page with no affiliation or endorsement by Costco Wholesale***
Costco Weekend Update sales Oct 22nd – 24th 2021