Welcome to the Costco Flyer sales preview for Nov 8th – 21st 2021 Folks!
*
*
*
If you'd like to skip ahead to the comments section, click here!
Ahhhh yes, who doesn't like to preview the upcoming sales?
This flyer coincides with the end of the P & G spend and get program as well, so you've got a chance to stack some of your savings.
This time you have the chance to be the ultimate pandemic planner and get your savings at the same time… Though you must act quickly!
Both Bounty Paper Towels and Charmin toilet paper will be on sale tomorrow for $5.00 off each
Now bear in mind that the Bounty paper towel sale ends tomorrow so this a one day chance to be a pandemic apocalypse planner/hero… You can buy 3 packs of Charmin T.P. and 2 packs of the Bounty paper towels for (on Sunday only!) a total of $99.95, this means you'll need to grab one more P & G item to push yourself over the $100 threshold. This could be one more pack of the Charmin T.P. or you could go for something like the Cascade dish detergent on sale for $4.20 off or any of the other products available… However Pandemic shopping 101 has taught us that T.P. and P.T. are the kings of the castle in a dire situation, so better to stock up on extras of those!
Oh The Food Saver… Thank you for being on sale!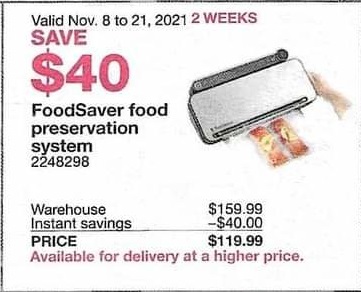 But why, oh why weren't you on sale at the same time as the portion bags?!?!?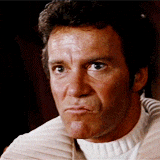 (Bonus points for everyone who is screaming the line from the scene above!)
Probably not a galactic conspiracy, but still fun to place the blame on that.
*The Salton Glass Kettle is on sale for $10.00 off at $34.99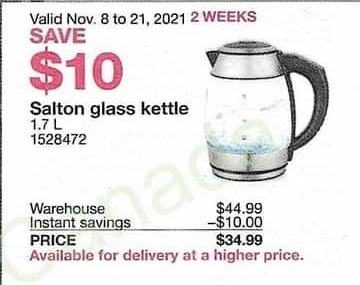 I have 2 of these, and I will say they are awesome!.
We had one incident where one of the Kettles stopped working, but we brought it back to Costco with the receipt, and they refunded us no problem.
I'll let you go and do your thing now folks.
I'll be seeing you soon enough, enjoy your weekend!
*
I think it's important to remember that we're not out of the corona virus weeds yet, and each province has their own Health recommendations based on the provinces individual risk assessment and I would recommend that you follow the recommendations for your specific province. Information can be found at the following websites.
Newfoundland COVID-19 information
New Brunswick COVID-19 information
Nova Scotia COVID-19 information
Go here for the latest Costco Coronavirus updates: https://www.costco.ca/coronavirus-response.html
So there you go, a little reading material for you.
Be kind, be safe and stay healthy!
Please note:
The price at your local Costco takes precedent (or precedence) over the prices listed on this blog.
Costco liquidation/Manager's Special items (ending in .97) vary from store to store.
An asterisk (*) on the price tag means the item is not being re-ordered.
If there is something you really want, ***double check the expiry date*** as some Costco sales items do end mid-week.
***This is a fan run, independent page with no affiliation or endorsement by Costco Wholesale***
Costco Flyer Sales preview for Nov 8th – 21st – 2021