In the Wednesday Super Post I pick an entire section of Costco and take pictures of ALL of the items for you see!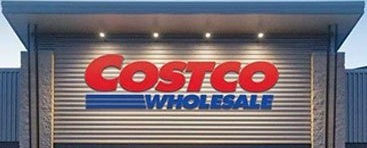 ***This is a fan-run, independent page with no affiliation or endorsement by Costco Wholesale***
Please note:
The price at your local Costco takes precedent (or precedence) over the prices listed on this blog.
Costco liquidation/Manager's Special items (ending in .97) vary from store to store.
An asterisk (*) on the price tag means the item is not being re-ordered.
If there is something you really want, ***double-check the expiry date*** as some Costco sales items do end mid-week.
If you'd like to skip ahead to the comments section, click here!
The promise of spring, and the abundance of new items inspired me to take a stroll through the seasonal aisles tonight.
Planning ahead for gardening is always exciting, and glancing at all the exciting bulbs I could plant is never a dull time!
The shade garden set is one I've been looking at quite a bit since we do have lots of space around us that's shaded, and those spots could use some love too! If you don't have the yard space, but have some porch or patio space you might want to consider one of these two elevated planters.
I personally prefer the look of the Cedarcraft planter, but the extra little shelf on the Keter elevated bed could be handy as well. Either way a great way to get some flowers of veggies on the porch!
Of course spending time outdoors (for me anyways!) means bugs! More specifically mosquitos… Evidently I'm a donut, and they're Homer Simpson.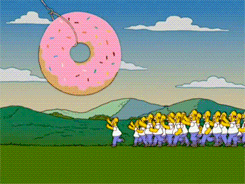 My go to repellent for a few years has been the OFF! powerpad, and has always worked relatively well, but the Thermacell patio shield is a new one so I'd be curious how well that works.
I mean if I could have a 4.5 meter shield from the mozzies I certainly wouldn't complain!
I've seen this Eastpoint axe throw kit since last year, and I gotta say it looks like a lot of fun!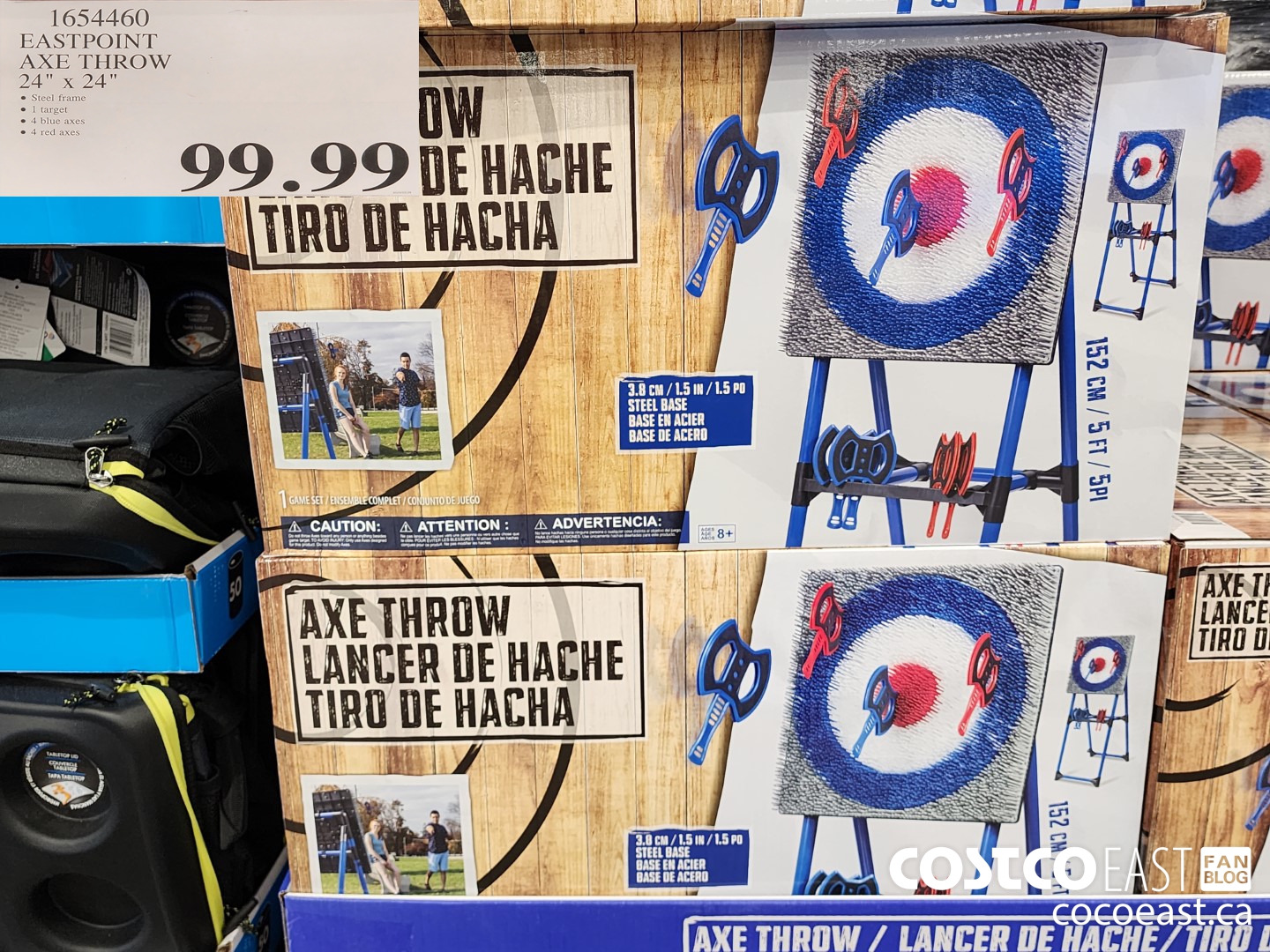 I haven't been "real" axe throwing before, but I think I'd certainly rather try this first before the real thing, might be a fun backyard game for the season and hey bring it inside int he winter and keep the games going!
I'll let you browse all of the items now folks, there's over 150 of 'em! So as Bob Ross used to say "Pour a nice glass of lemonade, pull up an easy chair and get ready to enjoy the Joy of Costco, I mean the joy of painting …" Sorry I messed that up folks, but you get the idea!
Enjoy.
Don't forget to check in with Rhonda over at the Costco Quebec Fan Blog and see what fun sales are happening there!
Costco Flyer Sales March 13th – April 2nd 2023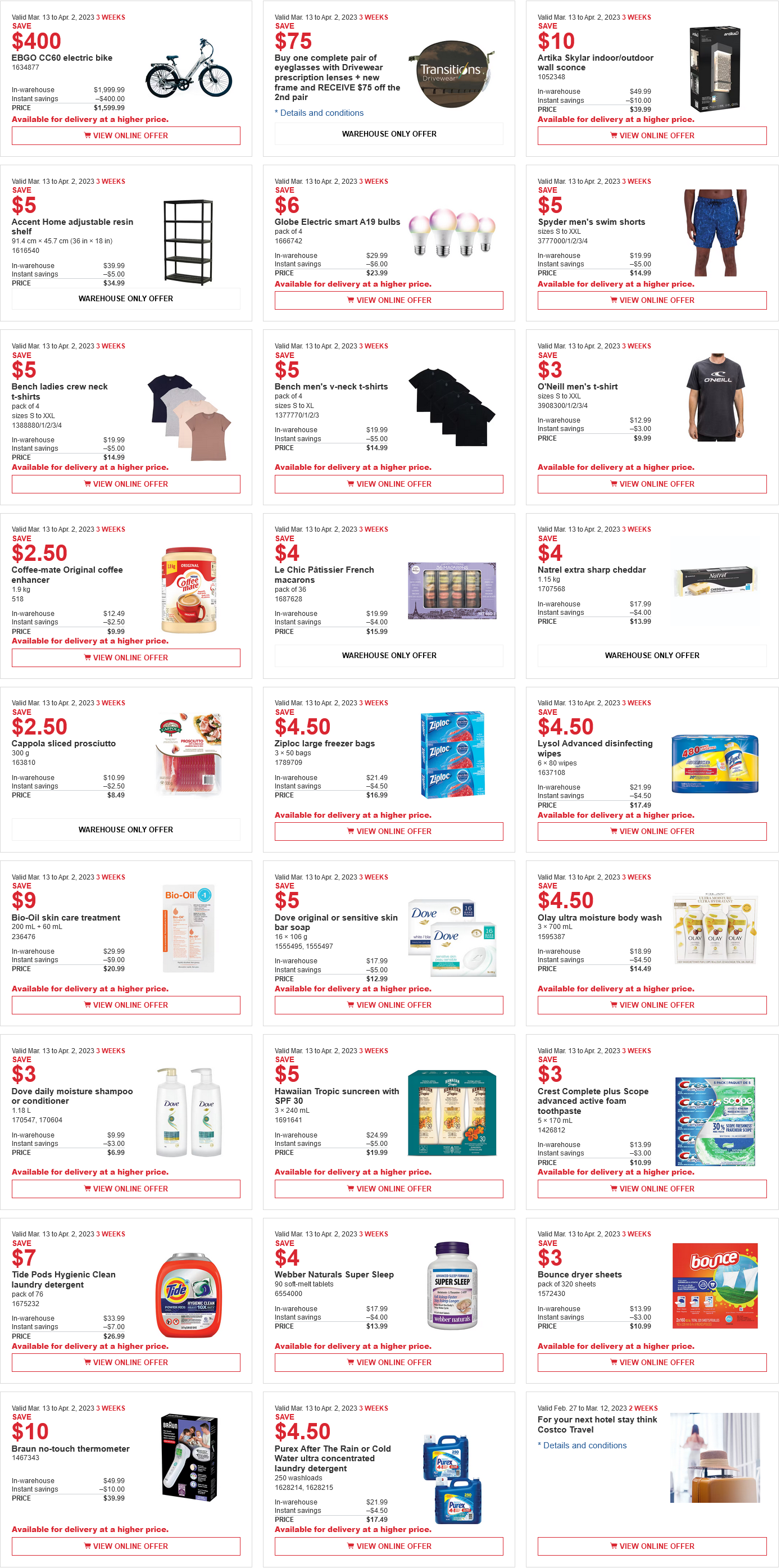 Costco Seasonal aisle Superpost items March 29th 2023