Costco Canada East Secret Sale Items – Oct. 15th – Oct. 22nd – Ontario, Quebec & Atlantic Canada
I walk the whole store for you every Monday when Costco's Secret Sale items are released for the week, then post them here and on our facebook page.
NEVER MISS A POST! Join the Costco East Facebook group to get updated whenever I make a new post! https://www.facebook.com/costcoeast/.
ALSO you can come and see my Instagram feed with Pics of my weekly Costco shopping trips, Dexter and Ewok being lazy cats and pictures of things that I have cooked with anything I've purchased at Costco. You can find that here! https://www.instagram.com/costco_east_fan_blog/
Subscribe to website updates via email and you'll get a confirmation email from "FeedBurner Email Subscriptions". Click the link within it to activate your subscription and you'll be notified by email whenever I post (1 or 2 times weekly). Check your spam filter or contact me if you have questions or do not receive a confirmation email.
**** TO SKIP AHEAD TO THE SALES CLICK THIS LINK ****
Well Costco Shoppers it was quite the chilly seasonally accurate day today (which makes me happy… Sorry folks but yes my favorite seasons are fall/winter) Overcast, Chilly but not too chilly! Just enough that wearing a big sweatshirt or the leather jacket makes sense, I love it! The cats on the other hand (and my partner) are not on the same page I don't think… My cats would rather be lounging around on the patio in the heat, this means that Ewok has started taking up his fall/winter/spring sleeping locations all of which (of course) are located right next to a heat register. One spot is at the top of the stairs underneath a little table, and the other is by the living room window curled up in the bottom of the curtain. Very cute. I'll sneak a pic of him this week in that spot. In the mean time here's a few shots of him watching us watching a movie on Saturday night.
I'm not sure if he was judging our selection or not… Sometimes he looks pretty blank when he stares at us…
Right then… On to the sales!
Some pretty good stuff on this week, must have been fire safety week or something because Fire extinguishers, fire/Co2 alarms and Co2 alarms are all on sale this week for great prices!
The fire extinguisher for example is more than half off what you might pay at another big box store (which I shall not name) and while we do have an extinguisher in the kitchen, I would like to have another one kicking around just in case anything happens (like setting a cutting board on fire… Happened once- more on that in a bit I guess) And although I just bought a new fire/Co2 alarms 68.99 for 2 alarms is super cheap!
So if you haven't done so since I last suggested it, climb up a ladder and check the dates on your old alarms (most have a 10 year life span) and do a test while your up there! Do yourself a favor and get these while they're on sale because they aren't really cheap otherwise! But with the holiday season approaching I think it's a great time to check all of your alarms because Christmas trees, lots of lights plugged in and holiday beverages can make for a bad combination. Here's a link to some fire safety steps http://www.oafc.on.ca/holiday-fire-safety
So yes in reference to all of this and how important it all is there was a day, well a night actually, where dinner was being cooked at our old apartment. We were doing pasta (because we love pasta, and yes we made it for dinner last night, and leftovers are for dinner tonight!) and while the water was sitting in the pot waiting for me to turn up the heat I put the long wooden cutting board on its usual spot 1/2 on the stove and 1/2 on the side of the sink (very small kitchen we made the most out of the space though) as we always did when prepping food, turned the stove on to high to boil the water and walked away for a few minutes to do something in the other room (right next to the kitchen). Maybe 3 or 4 minutes later my partner who was in the living room as well looked up and said (to my best recollection) "is the kitchen on fire?" Well I leaned around the corner to take a look thinking "no, why would it be?" Well folks… Turns out it was. Sorta. Not the whole kitchen but you see what happened was I turned on the front burner (housing the cutting board) not the rear burner (where the water waiting for tasty pasta was residing) and so obviously the wooden cutting board eventually just went up in flames (as they do when exposed to extreme direct heat)… So I think my thought process went something like this… Kitchen fire, don't use water! Could be hot oil on the stove (there wasn't) and it's an electric stove so I can't throw water on it (good point I think) so I skipped 1 crucial step and grabbed the fire extinguisher from under the kitchen sink (key word there…sink) and blasted the stove-top putting out the fire! (causing a few hours of messy cleanup and take-out fish and chips for dinner)
Now what I should have done was this… Slide the cutting board over a few inches into the empty sink and turn the tap on putting out the fire with water- in a metal sink away from oil and electricity… Nope, no time for that!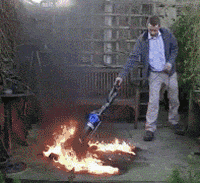 hmmm. probably could've tried that too. The point is, you never know when you're gonna need an extinguisher, and having a working fire alarm helps too… Come to think of it we should've checked ours then because it don't go off. Be fire safe!!!
Ok moving forward from my moment of not thinking clearly….
Always ultra thin pads are on sale this week for $3.50 off (regular, super and overnight). These don't go on sale too often so take advantage of this sale while you can!
Starbucks cafe Verona coffee is on sale again for 17.99 ($6.00 off) so you know darn well I got one of those, and will likely go back to get a second and third one while I can.
The Braun thermoscan ear thermomiter is on sale as well for $12 off putting it at 47.99. I remember when those went on sale in the spring (I think???) people were pretty happy about that, so if you've been waiting for this sale well, there you are. Go get it!

What else, what else…
Finish Max bonus dishwasher detergent pucks are on sale for 19.99 which is $7.00 off the regular price, and that's a pretty good deal. I've been using these for a few months now and I'm pretty impressed, I mean they do what they're supposed to do so I guess I shouldn't be surprised right? I just haven't found any surprise debris stuck to any dishes in the last while so… win!
Oh and Grana Padano cheese is on sale this week for $5.00 off for 16.99…. We bought a brick of it before thanksgiving and it's pretty great! But not on sale at that point… When cheese like that goes on sale it's the time to get it! I'm not like a huge cheese fanatic (unlike someone else in the house) but I do like shaved parm on pasta (again with the pasta!!!) so when it goes on sale we grab some because it's too expensive for everyday cheese in my opinion.
Charmin Ultra-soft Toilet paper (18.99) and Bounty select-a-size paper towels (15.99) are on sale so if those are your brands get 'em. I'm all about the Kirkland T.P. and paper towels so I usually bypass those 2, but I'm not judging you.
Ahh yes, some meat sale from the Kingston, ON. warehouse.
Also Natrel Butter at that location is still 3.99, hasn't changed for almost a month now. Please share any meat specials you have and tell us where you shop for everyone here to see!
It's still energy star sale time, so all the L.E.D.s are on sale for ridiculous prices and some light fixtures are on sale for less than ridiculous sale prices… $2.00 off a ceiling mounted light fixture doesn't really scream DEAL to me but hey, a sale's a sale!
Speaking of "energy" There was so much candy on sale I almost didn't make it out of that aisle!!! But I didn't cave as I still have 4/5ths of a giant bag of peanut M&M's here so until I make a dent in that, no more candy for me!
I still haven't started decorating for Halloween yet… I'm a little shocked actually… I usually am gung-ho! for it, but I guess I just haven't had the time yet. I'm really excited to get moving though as it's only 2 weeks away!  I mean, we haven't even started watching spooky movies yet what the heck?!?! I'll make it my mission to get on that this week. Watch a spooky movie and put up a few decorations, that'll get the juices flowing and get me moving on it!!!
Well we talked sales, we talked Halloween, we talked setting fire to kitchens (not an advisable activity) and you saw pictures of Ewok. I'd say that's a pretty solid week so I'll wrap it up at this point. As always I really really really appreciate all the support you give me and my little fan blog. I love doing this every week and I love reading comments you send every week as well. So a really big thank you to everyone who comes here and a big thank you to those who continue to be awesome and post every week! (Layla Bay, Jan in Waterdown, Fatema, Ray, Dianne, CEW, Steve and Laura just to name a few!) You are all so awesome and I love to hear from you every week!
Cheers everyone, happy October 15th! See you soon!
Please note:
The price at your local Costco takes precedent over the prices listed on this blog.
Costco liquidation/Manager's Special items (ending in .97) vary from store to store.
An asterisk (*) on the price tag means the item is not being re-ordered.
If there is something you really want, ***double check the expiry date*** as some Costco sales items do end mid-week.
The food brands available can differ from region to region. Pictures are taken at a store in Ontario. Sale items should apply to Costco locations in Ontario, Quebec, New Brunswick, Newfoundland & Nova Scotia, if the item is in stock at your store. There will likely be a few deals not shown here in your store. If this blog has helped you save money, consider sharing www.cocoeast.ca with your friends and family! If you see deals at your store that aren't on this blog, post them in the comments and help spread the money saving love!