Costco Canada East Secret Sale Items – Nov. 5th – Nov. 12th – Ontario, Quebec & Atlantic Canada
I walk the whole store for you every Monday when Costco's Secret Sale items are released for the week, then post them here and on our facebook page.
NEVER MISS A POST! Join the Costco East Facebook group to get updated whenever I make a new post! https://www.facebook.com/costcoeast/.
ALSO you can come and see my Instagram feed with Pics of my weekly Costco shopping trips, Dexter and Ewok being lazy cats and pictures of things that I have cooked with anything I've purchased at Costco. You can find that here! https://www.instagram.com/costco_east_fan_blog/
Subscribe to website updates via email and you'll get a confirmation email from "FeedBurner Email Subscriptions". Click the link within it to activate your subscription and you'll be notified by email whenever I post (1 or 2 times weekly). Check your spam filter or contact me if you have questions or do not receive a confirmation email.
**** TO SKIP AHEAD TO THE SALES CLICK THIS LINK ****
Hello Costco Friends!
I hope this post-Halloween blog finds you doing well, we had a great weekend (though it seemed to go by super fast) and honestly I can't believe it's November!!! It feels like it was just the start of October and I was all excited about Halloween decorating… Sigh… Oh well, at the rate time seems to be passing it'll be next Halloween in no time so I'd better start planning now right? Nah, not quite because Christmas is coming, just around the corner really and I plan on making the most of the holiday season. (after Remembrance day of course)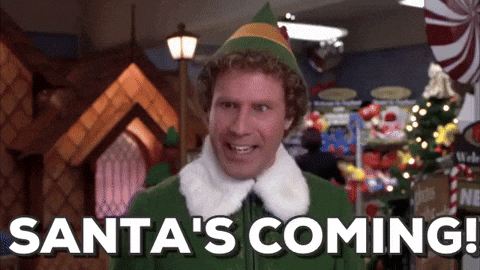 I love Elf! I can't wait to get into all the great Christmas movies and Christmas music as well (speaking of which I'll have to find all the CD's and get them in my car ready for heavy rotation!)
There will be lots of talk of those movies and music in the coming weeks leading up to it so be prepared! Also you can tell me what your favorites are, music and movies! Maybe there's one that I haven't heard of yet and will become an instant classic in the house! What are my favorites you ask? (you were gonna ask right???) Well let's see here, for movies I'd have to go with Elf, Home Alone 1 & 2 (I remember seeing the first one in theaters at the Scarborough Town Centre with 2 of my friends and their Auntie Va, such a good time!) Christmas Eve on Sesame Street, and A Christmas story (I'll cap it at 5 for everyone's sake otherwise I'll go on for a long time) Oh no I can't leave out one of the best- Die Hard! As many have said before "it's not Christmas until Hans Gruber falls off the Nakatomi plaza")
See… I'm not alone here.
Music? I'm a sucker for the Christmas oldies but Brian Setzer has a couple great Cd's and so do the Ventures. But I also love Surf music so I'm biased, (From classic The Ventures and The Shadows to newer bands like Huevos Rancheros or The Huaraches )
The Beach Boys Christmas CD is another classic album and who could forget "A very special Christmas".
Ok let's look at some sales instead of me blathering on about Christmas.
Level Ground whole bean coffee is on sale for 13.59, I haven't personally tried this brand- as we all know Starbucks coffee is the only one that is consumed in this household. BUT 13.59 is a great price so I would be tempted to try it out.
M & M's are still on sale for 10.99, I haven't finished the bag I got 3 or 4 weeks ago so I shall not be acquiring another one at this time.
Purex Cold water 200 load laundry detergent is on sale for 11.79, great deal for a lot of laundry detergent. I should be getting that one this week as I'm starting to run low.
Sunmaid Raisins are on sale for 9.99. I always forget about raisins, I used to love snacking on them but for no apparent reason I haven't been lately. I guess I'm too busy "snacking" on their cousin- Wine.
Cashmere Toilet paper is on sale still this week for 15.99, no need for a comment here. Though I'm resisting the urge for a bad joke or 2.
Agentia Ridge wine kits are still on sale for 63.99, thank you all for your reviews/input on those last week. I still am not sure about committing to that project yet, I feel like this month is already shaping up to be a busy one so taking on a new project might not be advisable for me. Maybe in December or January.
These Happy lights are still on sale too for 47.99. I'm no expert on these kinds of lights but from what I know they're supposed to help with seasonal affective disorder. Anyone out there used anything like this? If so does it work?
I couldn't help myself and picked up one of these today
I'll probably get another one to put on the front porch, they smell nice too! Almost like a Christmas tree, I can't wait to get one of those! (and I'm not going to kill it in 2 weeks this time either… That happened last year, we forgot to get them to cut the base of the tree and it didn't soak up any water so it just dried up and croaked… poor guy.)
Well it's almost time to make the dinner, so I think I'll let you go for now. (last night we had mini potatoes roasted with thick chopped onion, whole garlic cloves tossed with mexican oregano, chili powder and salt & pepper with halved acorn squash filled with maple syrup and guajillo chili powder, as well as chicken breasts marinated in a homemade BBQ sauce and a simple salad for good measure. It turned out great!)
We've found that roasting potatoes in a cast iron skillet is a great way to go, easy clean-up as well which is never a bad thing.
Ok I'll stop now and let you all get on with the fun stuff below.
Have a great week everyone!
(Also for the record I said Christmas 12 times in this blog if you count that last one there)
Please note:
The price at your local Costco takes precedent (or precedence) over the prices listed on this blog.
Costco liquidation/Manager's Special items (ending in .97) vary from store to store.
An asterisk (*) on the price tag means the item is not being re-ordered.
If there is something you really want, ***double check the expiry date*** as some Costco sales items do end mid-week.
The food brands available can differ from region to region. Pictures are taken at a store in Ontario. Sale items should apply to Costco locations in Ontario, Quebec, New Brunswick, Newfoundland & Nova Scotia, if the item is in stock at your store. There will likely be a few deals not shown here in your store. If this blog has helped you save money, consider sharing www.cocoeast.ca with your friends and family! If you see deals at your store that aren't on this blog, post them in the comments and help spread the money saving love!