Costco Canada East Secret Sale Items – May 7th 2018 – May 14th – Ontario, Quebec & Atlantic Canada
I walk the whole store for you every Monday when Costco's Secret Sale items are released for the week, then post them here and on our facebook page.
NEVER MISS A POST! Join the Costco East Facebook group to get updated whenever there is a new post! https://www.facebook.com/costcoeast/.
Subscribe to website updates via email and you'll get a confirmation email from "FeedBurner Email Subscriptions" – click the link within it to activate your subscription and you'll be notified by email whenever we post (1 or 2 times weekly). Check your spam filter or contact us if you have questions or do not receive a confirmation email.
Alrighty…. Dinner's done, dishes washed, game of wine cap hockey with the cat played (more on that later). Time to do this!
Seemed to take forever to get out of the first few isles, so much candy, gum and protein bars on sale I felt like every step I took I was greeted by another sale tag. It's the Cadbury 18 pack I like, almost all my favorites. Coffee Crisp, Mr. Big, Crispy Crunch… Mmmmm delicious! Also fits in perfectly with my near complete avoidance of the gym and neglect of home exercise, fantastic! As mentioned 4-ish weeks ago the kettle-ball has done a great job of keeping the floor in the office from drifting off- great job kettle-ball! You deserve a raise! The other weights have taken up pretty close to permanent residence in my basement, which is good. That frees up floor space for maybe 7 or 8 of those candy boxes, which, I guess I can get my squats in grabbin' another Mr. Big right? (just kidding, I didn't get 7 or 8 boxes of candy… The rest is true though) Just been a busy few weeks I guess and the motivation to rush home from work then rush to the gym then rush home to make dinner doesn't seem to exist sometimes… or at least seems to fluctuate with the current phase of the moon… (kidding) Seriously though, I guess thats why people wake up and go to the gym before work? But how am I supposed to get up, relax and enjoy my morning coffee(s) THEN go to the gym Then go to work without waking up at some ungodly hour??? I've got to have my coffee…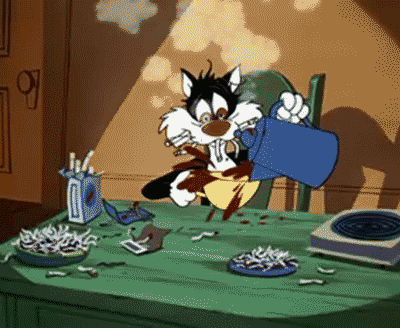 Poor Sylvester… so jittery. Speaking of spazzy cats, I mentioned I was playing wine cap hockey with one of my kitties Ewok. I don't know if your cats do this or not (if you have cats…obviously) but it started out as "kibble hockey" I would slide pieces of his dry cat food, or dry treats, on the floor and he would chase then down, and bat them around and sometimes pass them back to me before eating the "kibble puck". This became a favorite game of his, and he'll play it with wine caps as well. So ya…. I thought I needed to share that with you all for some reason… This is why I don't go to the gym… I'm busy playing floor hockey with my cat. Ewok has become my scapegoat for lack of exercise, fantastic!
The cascade power clean dishwasher pods are on sale for even more off this week than last, so if you need 'em get 'em! Cap 'n Crunch is on sale as well, which, as much as I think I used to like it as a kid I feel like that one was always a pretty aggressive cereal… just really hard and well…Crunchy, duh! but it always gave me little cuts on the roof of my mouth… Darn you Captain!
That's why I always went with the Count (Chocula that is…not this guy down below, but he is pretty cool though)
Back to coffee… Zavida has another sale this week only its the hazelnut vanilla this time. It's been a long time since I've had a flavoured coffee, like I feel as though the last time I did was at least 13-14 years ago and it was a french vanilla something or other from Tim Hortons… I don't think I can do it anymore, I like my coffee to taste like coffee, not vanilla and different kinds of nuts. First off, the Tim Hortons one I'm sure was at least 97% fake sugar and fake flavor, and 1% coffee (I don't know what the other 2% was, nor do I want to at this point) second, I guess I don't want to drink my desert (which is what it tastes like) in the A.M. Hey, the occasional piece of cake for breakfast is not the worst idea in the world, in fact it's a pretty decent one most days, but guess what that cake goes really well with? Coffee. Specifically coffee that tastes like what you ask? If you guessed coffee then you win! Needless to say I did not get that coffee, I was however instructed to pick up the starbucks dark roast as the Zavida columbian coffee I grabbed last week didn't seem to win any awards with the other coffee drinkers in the house.
Coke, Diet Coke, and Coke Zero are on sale as well, but I don't really drink soda. I used to when I was younger… I used to LOVE it. I still do on occasion enjoy one of those fancy cream sodas, or root beers, or ginger beers… mmmm the really spicy ones. Ya, those are killer!
Well… I think it's time to wrap this puppy up. I hope everyone had a good weekend and enjoyed some of the nice weather… maybe got some gardening done? We finally got rid of our Christmas trees from the back. (yes you heard that correct, not a word of a lie) I got some citronella plants out back to "hopefully" dissuade any pesky mosquitoes from hangin' around… We'll see how that goes.
Enjoy your week folks, Happy Mothers day to all the Mothers!
Please note:
The price at your local Costco takes precedent over the prices listed on this blog.
Costco liquidation/Manager's Special items (ending in .97) vary from store to store.
An asterisk (*) on the price tag means the item is not being re-ordered.
If there is something you really want, ***double check the expiry date*** as some Costco sales items do end mid-week.
The food brands available can differ from region to region. Pictures are taken at a store in Ontario. Sale items should apply to Costco locations in Ontario, Quebec, New Brunswick, Newfoundland & Nova Scotia, if the item is in stock at your store. There will likely be a few deals not shown here in your store. If this blog has helped you save money, consider sharing www.cocoeast.ca with your friends and family! If you see deals at your store that aren't on this blog, post them in the comments and help spread the money saving love!