IMPORTANT RECALL NOTICE – Brookstone Folding Step Stool Set of 2
Hello and happy Thursday afternoon everybody!
Just a quick heads up there is a recall notice on these Brookstone folding step stools (Costco Item 1496414), sold at a Costco Warehouse or on Costco.ca between February 2021 and April 2021.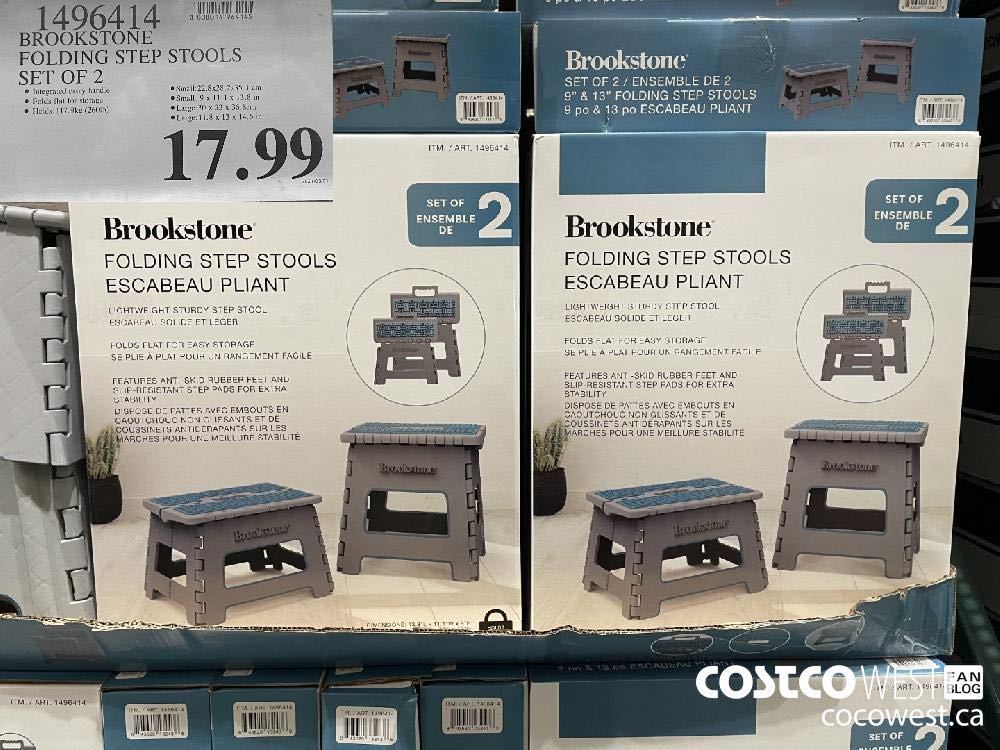 Apparently they might crack or break when being used, and that is certainly not something you want to happen!
Here's the Costco.ca product notice release.
"Creative Brands LLC is recalling the Brookstone Folding Step Stool Set of 2, (Costco Item 1496414), sold at a Costco Warehouse or on Costco.ca between February 2021 and April 2021 ("Folding Step Stool"). The Folding Step Stool may crack, break, or collapse unexpectedly when in use posing a fall hazard to the user. As of April 12, 2021, there have been four incidents reported in Canada relating to the Folding Step Stool including two injuries.
If you have one of these Folding Step Stools in your possession, please stop using it immediately. At your convenience, you may return it to a Costco warehouse to obtain a full refund. Please follow your local by-laws and provincial guidelines as it pertains to the return of merchandise.
For more information, please contact:
Creative Brands LLC
Email: info@creativebrandsllc.com
Phone: (718) 528-8989
Hours of operation: 9:00am – 5:00pm (EST)
We apologize for any inconvenience this may cause and ask you to please pass this information along to anyone to whom the Folding Step Stool may have been given."
There you have it folks, just a quickie today. But I'll see you again tomorrow!
Stay safe everyone.
(Also I know the comments aren't visible yet, we are working on it)
Here's some great news for those of you who are 60 & above and looking to get your first dose of a COVID-19 vaccine! You're able to book an appointment now to get it at select Costco pharmacies! Right now it's only at 6 Costco locations in Ontario but it's something! (Click this link to go to the booking page)
Since we are in the third wave of COVID-19 I think it's important to remember that we're not out of the corona virus weeds yet, and each province has their own Health recommendations based on the provinces individual risk assessment and I would recommend that you follow the recommendations for your specific province. Information can be found at the following websites.
Newfoundland COVID-19 information
New Brunswick COVID-19 information
Nova Scotia COVID-19 information
Go here for the latest Costco Coronavirus updates: https://www.costco.ca/coronavirus-response.html
So there you go, a little reading material for you.
Be kind, be safe and stay healthy!
Please note:
The price at your local Costco takes precedent (or precedence) over the prices listed on this blog.
Costco liquidation/Manager's Special items (ending in .97) vary from store to store.
An asterisk (*) on the price tag means the item is not being re-ordered.
If there is something you really want, ***double check the expiry date*** as some Costco sales items do end mid-week.
***This is a fan run, independent page with no affiliation or endorsement by Costco Wholesale***