IMPORTANT RECALL NOTICE
Lithium-Ion Battery supplied with Sunter Rechargeable LED Vanity Mirror
Costco Item #1616995
Costco Wholesale records indicate you may have purchased the Sunter Rechargeable LED Vanity Mirror at a Costco warehouse or on Costco.ca between May 2022 and February 2023.
Blackstone International Ltd. is recalling the lithium-ion battery supplied with the Sunter Rechargeable LED Vanity Mirror. The lithium-ion battery may overheat, posing a risk of the product catching fire.
To date, Blackstone International has received six reports of incidents in Canada, including 5 involving property damage.
The affected product can be identified by the date sticker located on the underside of the base of the mirror. The affected product will have a date of 03/2022 or 04/2022.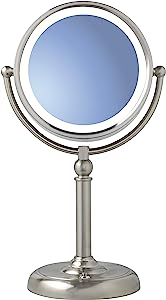 If you have one of the affected Sunter Rechargeable LED Vanity Mirrors in your possession, please immediately take the following steps to safely remove and discard the lithium-ion battery (do not handle lithium-ion batteries near small children):
Turn the mirror off using the black toggle switch located on the side of the mirror base
Turn the mirror upside-down: pull the tab on the compartment door to open the battery compartment
Remove the battery from the compartment and discard the battery quickly and properly (keep battery out of children's reach and sight)
Once the existing battery has been safely removed and discarded, you can resume the safe use of the Mirror using the included AC wall adapter, in accordance with the mirror instructions.
Free Replacement Battery
You may contact Blackstone International to order a free replacement battery or for more information:
Blackstone International Ltd.
800-485-4286
Alternatively, you may return the Sunter Rechargeable LED Vanity Mirror to a Costco warehouse to obtain a full refund.
We apologize for any inconvenience this may cause and ask you to please pass this letter along to anyone to whom Sunter Rechargeable LED Vanity Mirror may have been given.
Sincerely,
Blackstone International Ltd.