The Costco East & West Fan Blogs have partnered with Garnier to help them promote the Ombrelle Complete SPF 60 sunscreen which is available at select Costco Warehouses & Ombrelle Kids SPF 60 sunscreen lotion which is available at Costco Warehouses Canada wide.
This is a paid promotion, and all opinions are my own… And my partners opinion… And the opinions of Co-workers & their kids who happen to be excellent testers. With that being said, I would never promote a product that I didn't sample and believe in.
On that note a big thanks to everyone who takes the time to read this and thank you to my reviewers!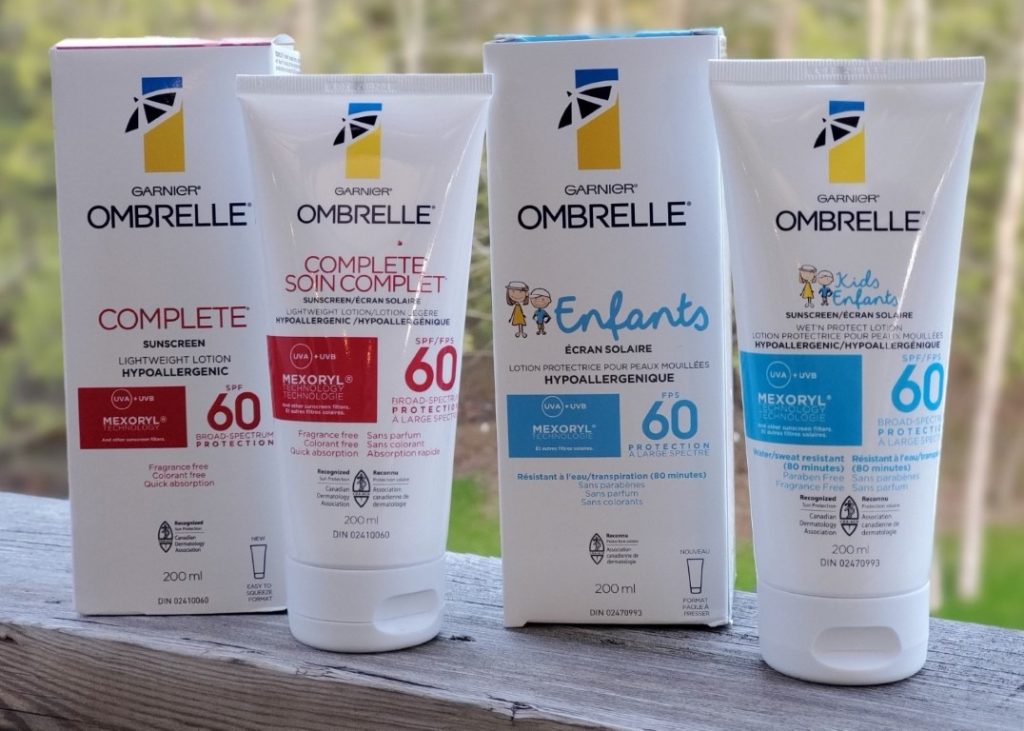 "Bring back those Lazy-Hazy-Crazy days of Summer!"
Ah yes, it's right around the corner…The B.B.Q.s, the gardening, the lounging around by the pool & the awful sunburns that follow. Whoops! I think we've all been there at some point, right? You go out to the beach with some friends, spend all day in the sun and "forget" to put on your greasy, smelly sunscreen and then realize on the drive home that it actually hurts when you even look at your crispy skin.
Enter Garnier's Ombrelle Complete SPF 60 sunscreen.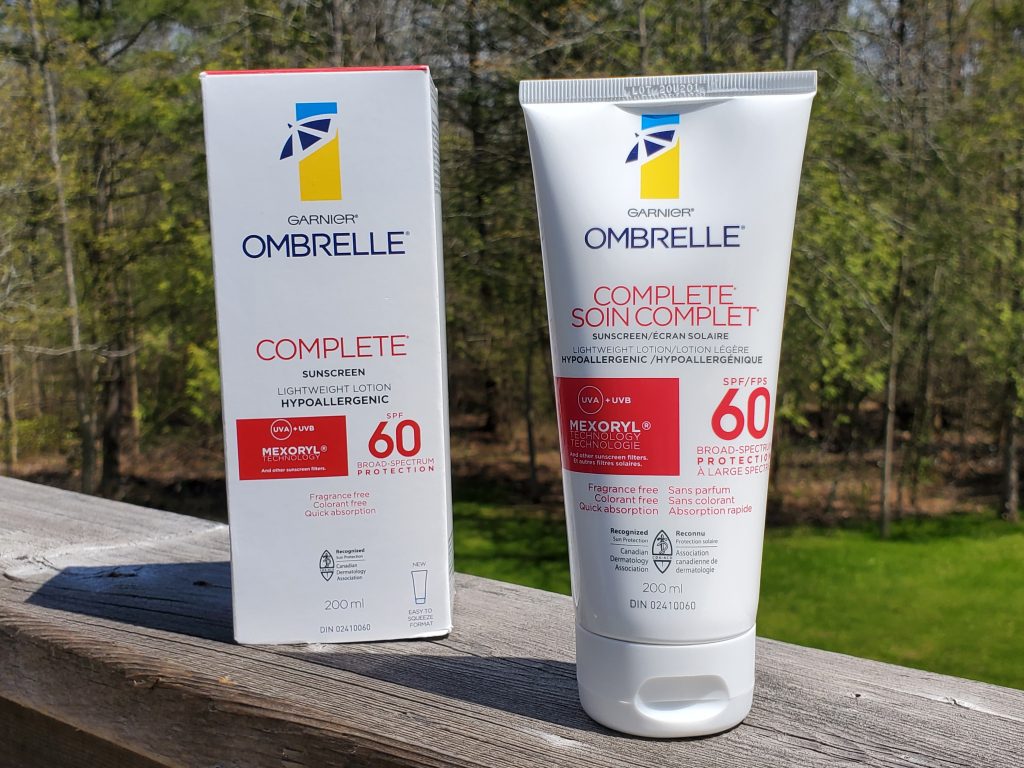 A lightweight, non greasy, unscented broad-spectrum sunscreen that is the #1 recommended brand in Canada by pharmacists and physicians.
Non greasy you say? Probably my least favorite part of sunscreens is that greasy, sticky feeling it leaves on your skin. The Ombrelle Complete sunscreen absorbs quickly into your skin, my reviewers even said it felt more like applying a moisturizer than a sunscreen! One reviewer said, "it felt super soft on my skin, it was like I was putting on a lotion AND basically no scent." and another confirmed that by saying "After it was absorbed skin was smooth felt like more of a moisturizer" Hmmm, moisturized skin and sun protection that isn't greasy? Count me in!
And how about the smell? Well… What smell? There really isn't much of one. When applying the Ombrelle Kids sunscreen on her kids a reviewer said, "It has a nice scent (even though unscented) not strong or medicine-y/ just clean." I would have to agree, having just put some on my arms there is the faintest classic sunscreen scent but it's hardly noticeable and in no way strong enough to turn me off from applying it.
Speaking of kids, Garnier's Ombrelle Kids sunscreen was a hit!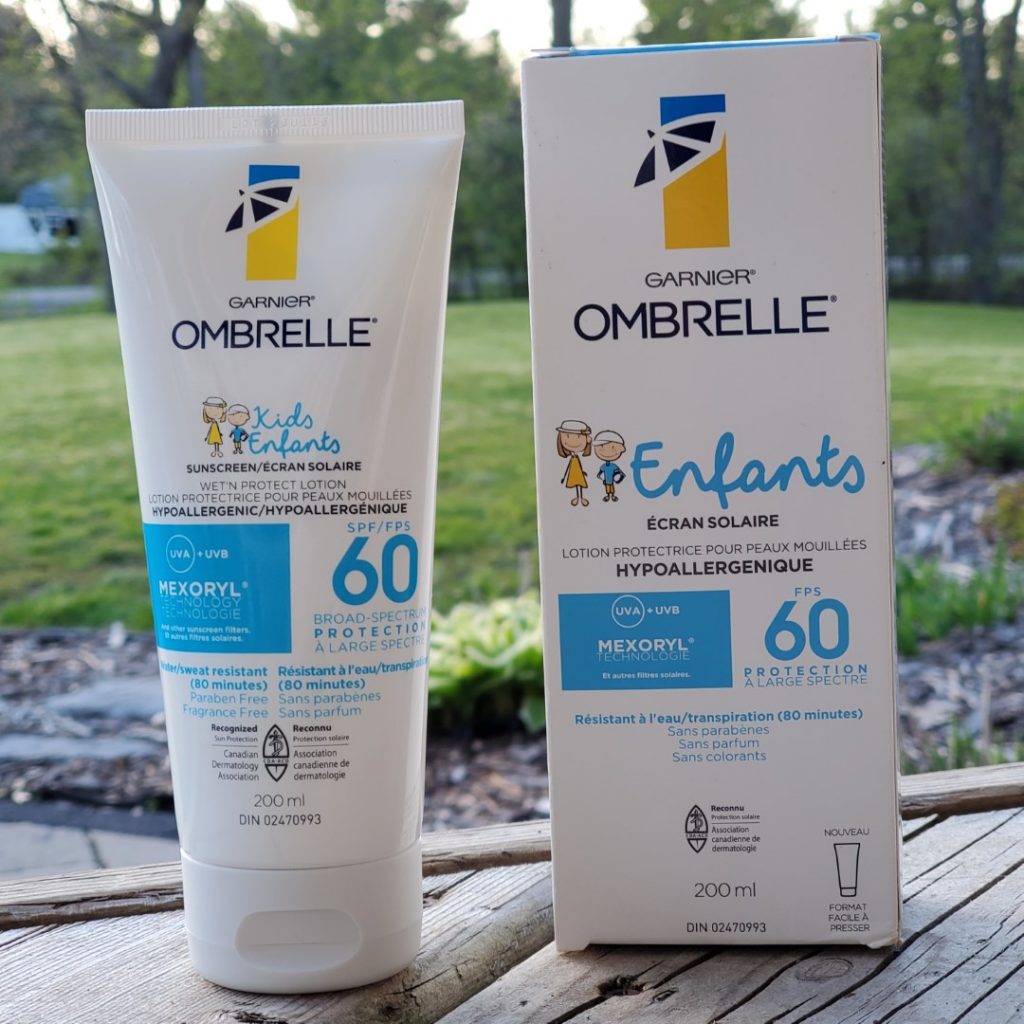 Both reviewers loved the size of the bottle (200ml) "Happy with the 200ml bottle for a large family of 6 it's great knowing that it'll last me more than a few days in the sun." And the SPF protection "It's a higher SPF than I can normally find which is also a plus & I love that I can re-apply on wet skin. Every 2 hours could be a bit of a hassle, but when swimming I'm pretty OK with that." I'm sure trying to wrangle 4 kids out of the water is hard enough, but then trying to get them all dried off to reapply sunscreen would be even more difficult, so being able to apply this on wet skin is a huge benefit (and probably would've saved me from a few sunburns when I was younger).
Now obviously we have not had a ton of sunny days, so does that mean you can skip the sunscreen? NOPE! According to the CDC "Protection from UV rays is important all year, not just during the summer. UV rays can reach you on cloudy and cool days, and they reflect off surfaces like water, cement & sand" Another awesome benefit to the Ombrelle Complete sunscreen & Ombrelle Kids sunscreen lotion is the UVA/UVB protection it offers, SPF 60 will give you 98% protection! Those pesky UV rays are around even when the sun is hiding behind some clouds so it's very important to be using a broad-spectrum sunscreen at all times.
One faithful reviewer summed it all up pretty well "I really loved the Garnier Ombrelle Complete sunscreen (SPF 60) The lightweight formula is non-greasy on my skin and absorbs quickly, leaving my skin feeling smooth. While it is not waterproof, this is a great everyday sunscreen as it feels more like a moisturizing lotion rather than a greasy sunscreen. I would definitely recommend this sunscreen for those who have sensitive skin and need that extra everyday sun protection."
Garnier Ombrelle Complete sunscreen is available at select Costco warehouses listed below for $26.99 for the 2 x 200ml package while the Ombrelle Kids sunscreen is available at Costco warehouses across Canada for the same great price of $26.99 for the 2 x 200ml package.
So, suit up and get to applying that sunscreen Canada, it's time to get out there and enjoy those Hazy-Crazy days of Summer!
*Thank you so much for reading this review, and thank you to Garnier for asking us to be a part of this promotion!*
***This is a fan run, independent page with no affiliation or endorsement by Costco Wholesale***
Garnier Ombrelle Complete sunscreen is available at the following Costco warehouses: