Welcome to the Costco Weekend Sales Update where I'll keep you all in the loop on the awesome sales Costco releases for the Weekend! I'll post them here and on our Facebook page for you to enjoy.
Hello, happy Friday & welcome to the Costco weekend sales update everybody!
I must say it was like walking into a completely different place… The houseware aisles blocked off by coffee. Electronics by a mixed variety of nuts (and I don't mean crazy shoppers either!) Clothing encapsulated by protein bars & snacks & clearance blocked by pizza crust…. And hey no end caps down the back aisles!
I will happily admit with no end caps there was soooo much room in that aisle to cruise around in.
Something like that Elaine…
As you can see folks (and as I'm sure most of you know) all non-essential items are off limits for 4 weeks or so. Though for some reason I thought cooking supplies and equipment were deemed "essential".Oh well… I think we can all survive a few weeks without that stuff!
But no flowers?!?! Sorry Diane, I guess it'll be a few weeks before I see you stocking up the tulips again. Be safe in the mean time.
All of the food, cleaning, pet, personal care and pharmacy items are still available however & a few new items were spotted today that caught my eye.
Frankie's organic jalapeno cloud puffs ($5.99) looked delicious, though they seem like the kind of tasty treat that you open and then eat the whole bag… Then regret the decision.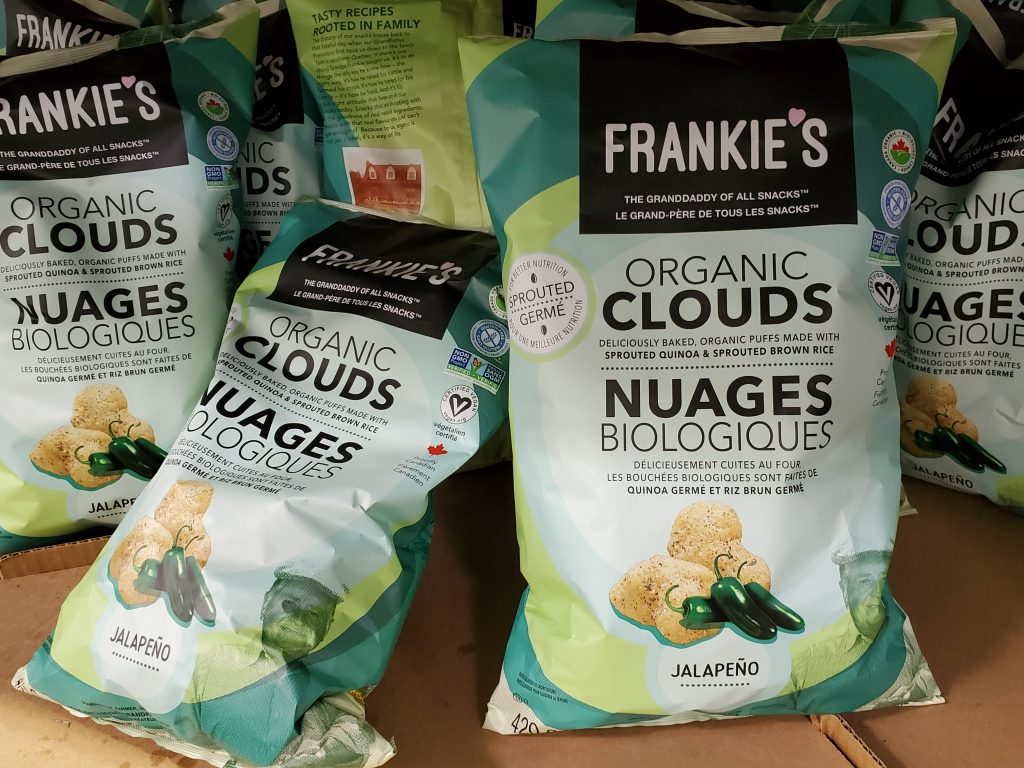 Dore-Mi Haloumi (2 x 235g $10.99) was another delicious looking cheesy item.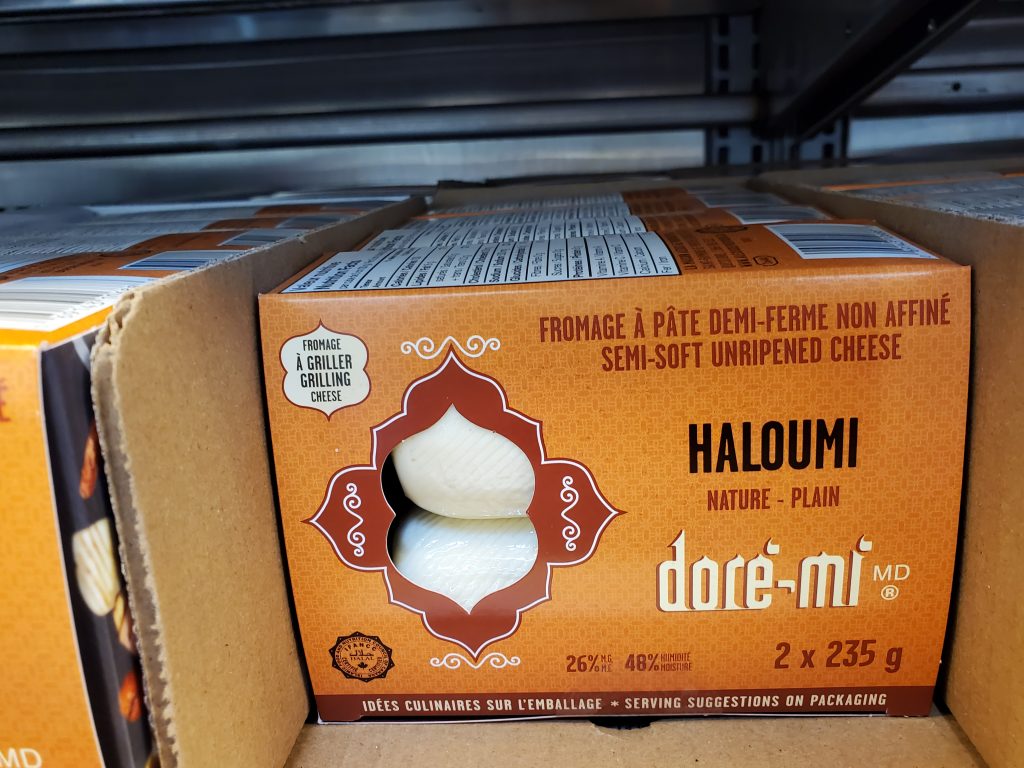 I can see this leading to an addiction if you aren't careful.
As most of you are well aware there is no room in my house for ANY more condiments, however this one… Well I didn't get it, but I could see the Wafu spicy mayonaizu fitting well in our fridge. (and on our fries)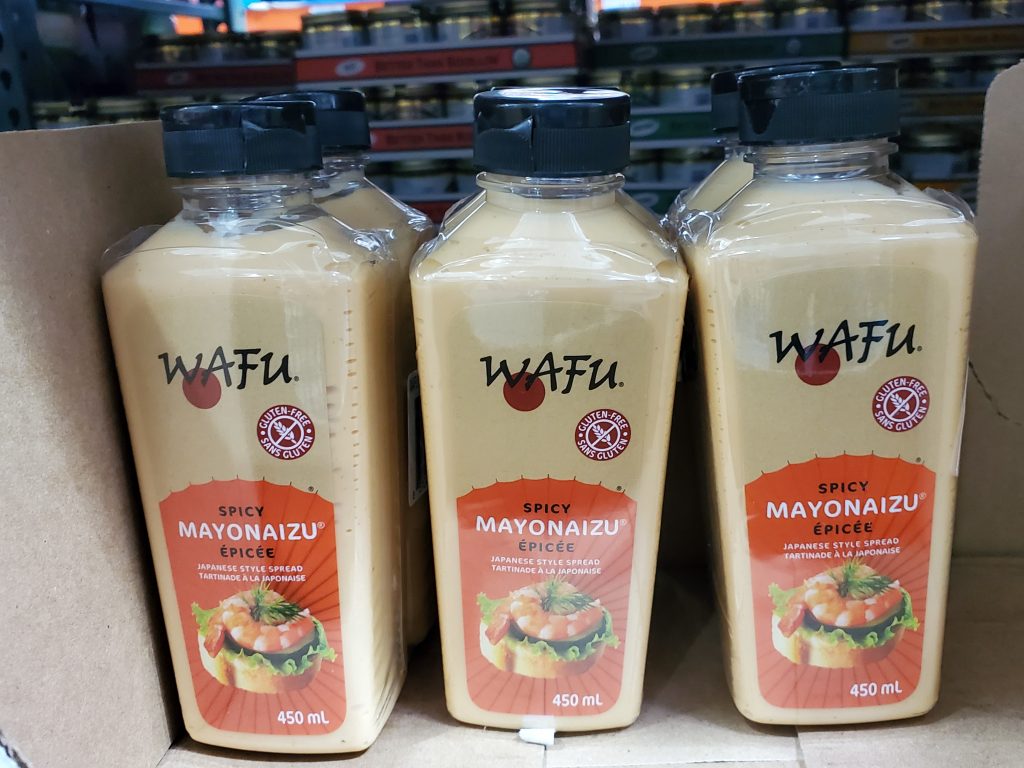 I was a little bit skeptical about the next two items here.
While I never turn down a taco, and I'm sure these are probably delicious, I'm a bit wary of the assembled frozen taco that you pop in the oven… Anyone? I'm sure they are delicious and I don't want to say anything bad about them, but tacos to me were always fresh.
The next one is the Golden Grill hashbrowns. (8 x 119g) Again, I will reserve judgement until I actually try them. Hashbrowns in a carton… Again, not for me to judge… They could be amazing, maybe even make fantastic potato pancakes who knows.
I'm not meaning to speak down on these products, just haven't tried them yet and looking for anyone who has to give a little shout out.
Anyhow let's check out a few of the other items on sale this weekend.
Softsoap bodywash 4 x 591ml -$3.00 @ $8.99
Jamieson vitamin C + Zinc 500mg 400 chewable tablet -$3.00 @ $11.99
Dempsters deluxe hotdog buns 2 packs of 12 -$2.00 @ $3.99
Healthy choice chicken soup 10 x 398ml -$3.00 @ $9.99
Musclepharm Combat protein powder chocolate milk 2.72kg -$15.00 @ $34.99
Kakuna cheese ball 397g -$2.00 @ $5.99
Grimm's Sizzlin' Somkies 900g -$2.00 @ $6.99
*
So as you have likely noticed folks we have migrated over to our new website!
Of course, it's not without it's flaws but it is a work in progress and we are working diligently to address all of the issues as they come up.
1st – we didn't actually wind up migrating on our stated schedule, sorry about that.
2nd – I know that (as expected and stated) there would be some server downtime or other loading issues that would happen (Thank you Jenn for messaging me and helping check a few things out with us, it's very much appreciated!) As I'm writing this we're working through them, checking all the different browsers & platforms & devices to see how they're loading. So far I think we're looking OK. But please be patient if things load up a little slower than normal or you see the dreaded "crash" page. This is all temporary and trust me it'll be all the better!
3rd – I know the comments section isn't working at the moment but it is on our list of "fixes" so again be patient, that section isn't going anywhere and will be fixed soon.
There's a few things that are missing at the moment like in the "posts" section of our new little drop down menu. (We call it the hamburger)

From here you should be able to search through all of our posts by category.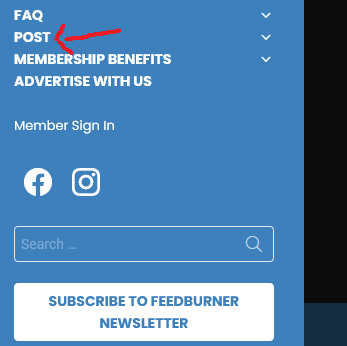 So let's say you wanted to see one of the Monday posts, you could simply open the menu and select "Monday Sales" and they would appear, or maybe you wanted to find out what the last few executive coupons or the last recall notices were you'd select "executive coupons" or "recall notices" and boom… All within your hands!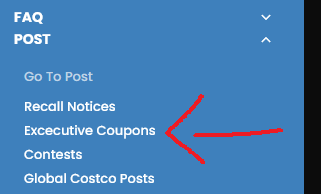 However as you can see, the "Monday sales" and "weekend updates" are currently missing. This is on our list of fixes as well folks. (and some re-categorizing still needs to be done)
Also please ignore my terrible Microsoft paint arrow drawing skills, or lack there of…
Another benefit to this layout is that (as you may have already seen) I've removed a lot of the extra content at the top and bottom of the blog which, I think makes it look a lot cleaner and less cluttered. I'm very pleased with that.
Anyhow aside from that it's been a beautiful spring week and the kitties, chipmunks and Hans Gruber have been enjoying it as much as we have.
And so have the 84 tulips & 5 allium that are sprouting right now! We're very excited about that, I think most of them are bulbs we planted from Costco last year, mixed with a few others from Canadian tire and then a bunch from the previous years planting… Obviously I don't remember what we planted where exactly so it'll be a surprise to us all!
I've never grown the Alliums before (though I'm looking forward to some giant purple puff balls in the garden) anyone have any experience with them?
There's so many great things to look forward to both in the garden and on the blog, it's very exciting folks!
OK, I'm going to head out. Have a great weekend everybody and stay safe.
Also please remember that we are working around the clock to make sure the blog is up and running, so please bear with us a. It's a wild ride I know.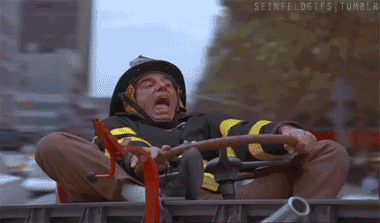 *
Here's some great news for those of you who are 60 & above and looking to get your first dose of a COVID-19 vaccine! You're able to book an appointment now to get it at select Costco pharmacies! Right now it's only at 6 Costco locations in Ontario but it's something! (Click this link to go to the booking page)
Since we are in the third wave of COVID-19 I think it's important to remember that we're not out of the corona virus weeds yet, and each province has their own Health recommendations based on the provinces individual risk assessment and I would recommend that you follow the recommendations for your specific province. Information can be found at the following websites.
Newfoundland COVID-19 information
New Brunswick COVID-19 information
Nova Scotia COVID-19 information
Go here for the latest Costco Coronavirus updates: https://www.costco.ca/coronavirus-response.html
So there you go, a little reading material for you.
Be kind, be safe and stay healthy!
Please note:
The price at your local Costco takes precedent (or precedence) over the prices listed on this blog.
Costco liquidation/Manager's Special items (ending in .97) vary from store to store.
An asterisk (*) on the price tag means the item is not being re-ordered.
If there is something you really want, ***double check the expiry date*** as some Costco sales items do end mid-week.
***This is a fan run, independent page with no affiliation or endorsement by Costco Wholesale***
Costco Weekend Update sales April 9th – 11th 2021