I walk the whole store for you every Monday when Costco Sale items and Costco Flyer sales are released for the week, then post them here and on our Facebook page.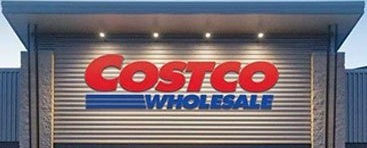 ***This is a fan-run, independent page with no affiliation or endorsement by Costco Wholesale***
Please note: The price at your local Costco takes precedent (or precedence) over the prices listed on this blog. Costco liquidation/Manager's Special items (ending in .97) vary from store to store. An asterisk (*) on the price tag means the item is not being re-ordered.
If there is something you really want, ***double-check the expiry date*** as some Costco sales items do end mid-week.
If you'd like to skip ahead to the comments section, click here!
First off congratulations to Nancy Bruce for being selected as the winner for last weeks draw! Make sure you send me a message so I can get your prize mailed off to you!
CONTEST TIME!!! This week I'm going to be giving away another $50.00 Costco Cash Card! Keep reading to find out how to enter!
Well folks, the Black Friday week is upon us! This means an abundance of sales available this week, 298 of them to be exact!
It's pretty hard to know where to start with all of that… So I guess let's near the start (duh!) with the Apple AirPods 3rd generation on sale for $30.00 off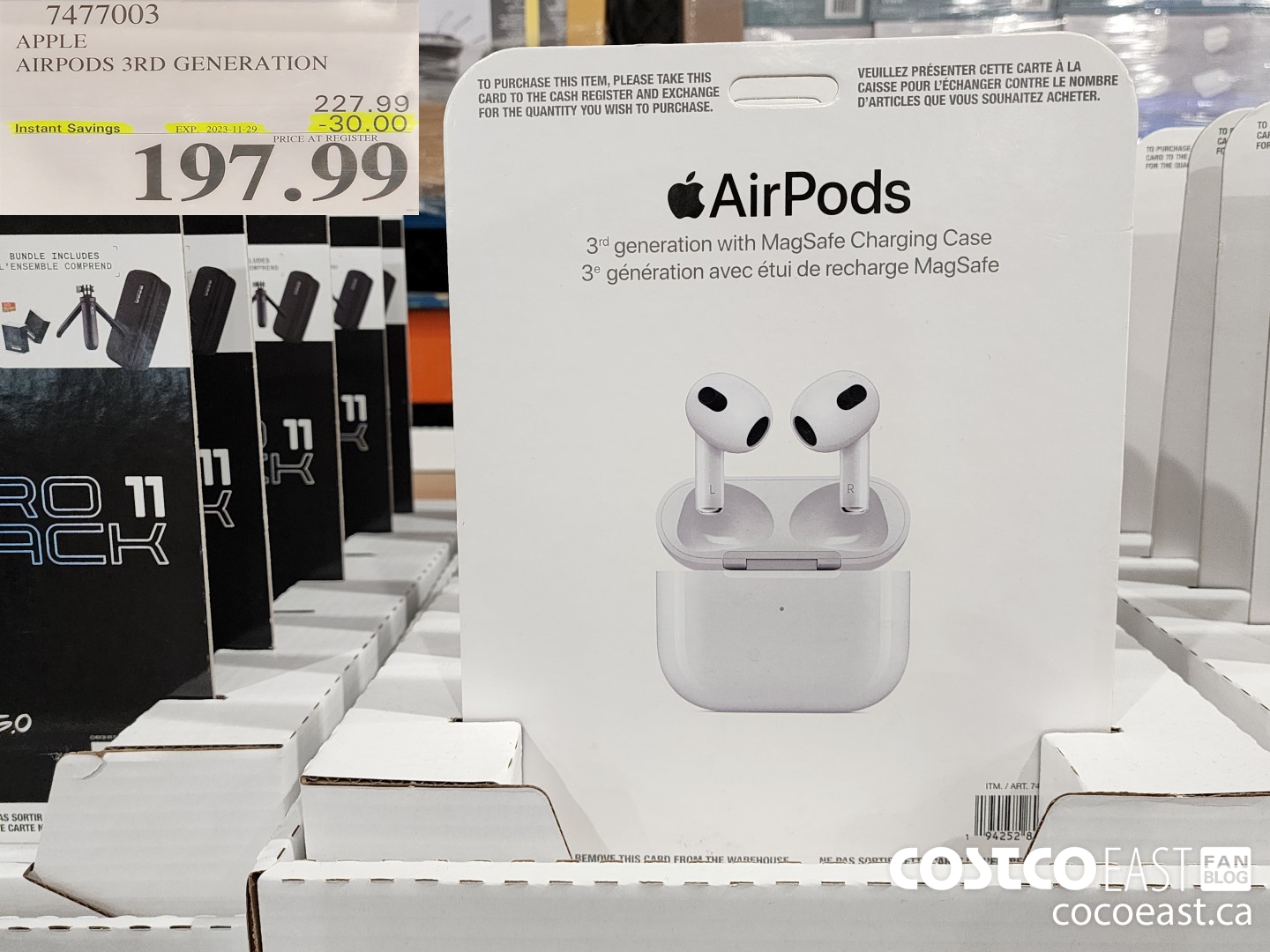 I'm not an Apple person, but from what I know these are pretty awesome. Though I really don't know whats better, these or the Pro???
There's some pretty monster sales happening on Samsung TV's right now, so if you're looking for a new one and want up to $400.00 off, I'd say strike while the iron's hot!
And if those prices don't charge you up, how about a few actual chargers for you?
Maybe a good stocking stuffer idea?
Another cool gift idea, and something I've always kind of liked the idea of are the digital picture frames. I just think it's cool that you could have a picture frame that's just loaded with all of your favourite pics. And hey, this one's on sale for $40.00 off!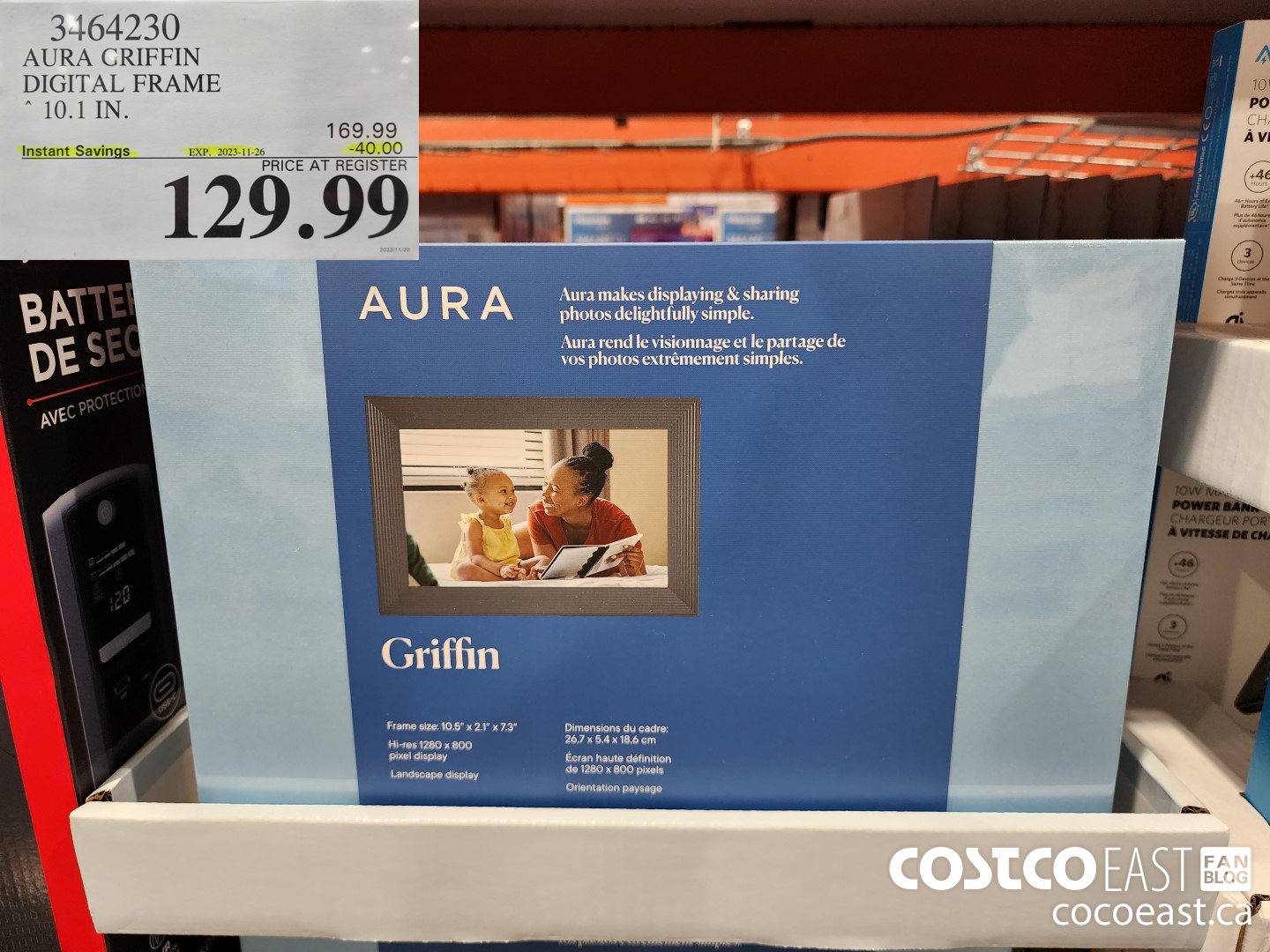 In other fun Techy-Gamer type gadgets these Playstation Backbone One mobile gaming controls are on sale for $43.00 off, and allow you to play your downloaded Playstation games on the go!
Looking to set the mood for the Holidays, but don't want to worry about fire? How about a set of Gerson glow wick candles to make you feel cozy?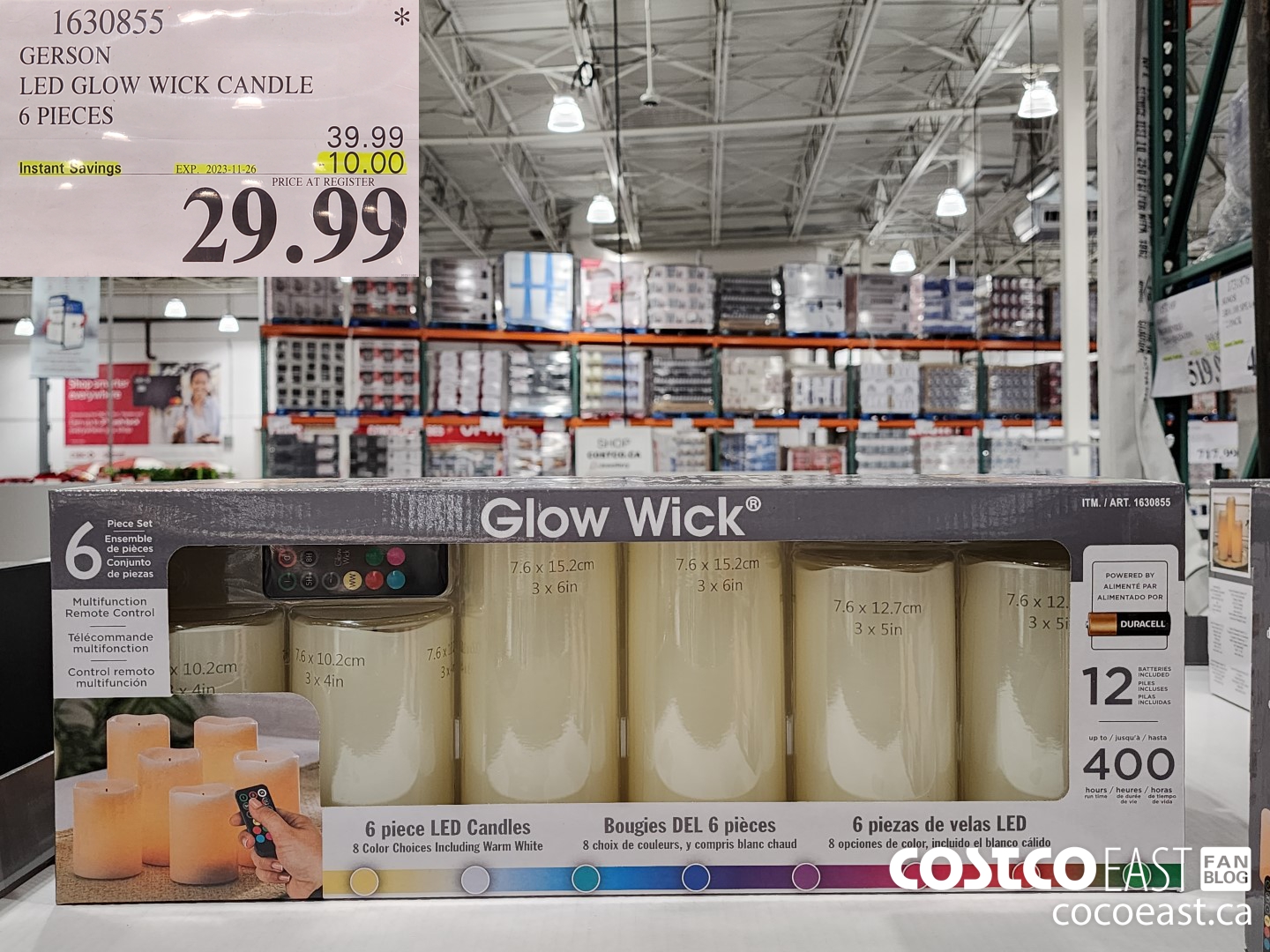 They've got a remote, hanging colours and the batteries last up to 400 hours… Not too shabby!
How about a Henckels knife set for your favourite cook???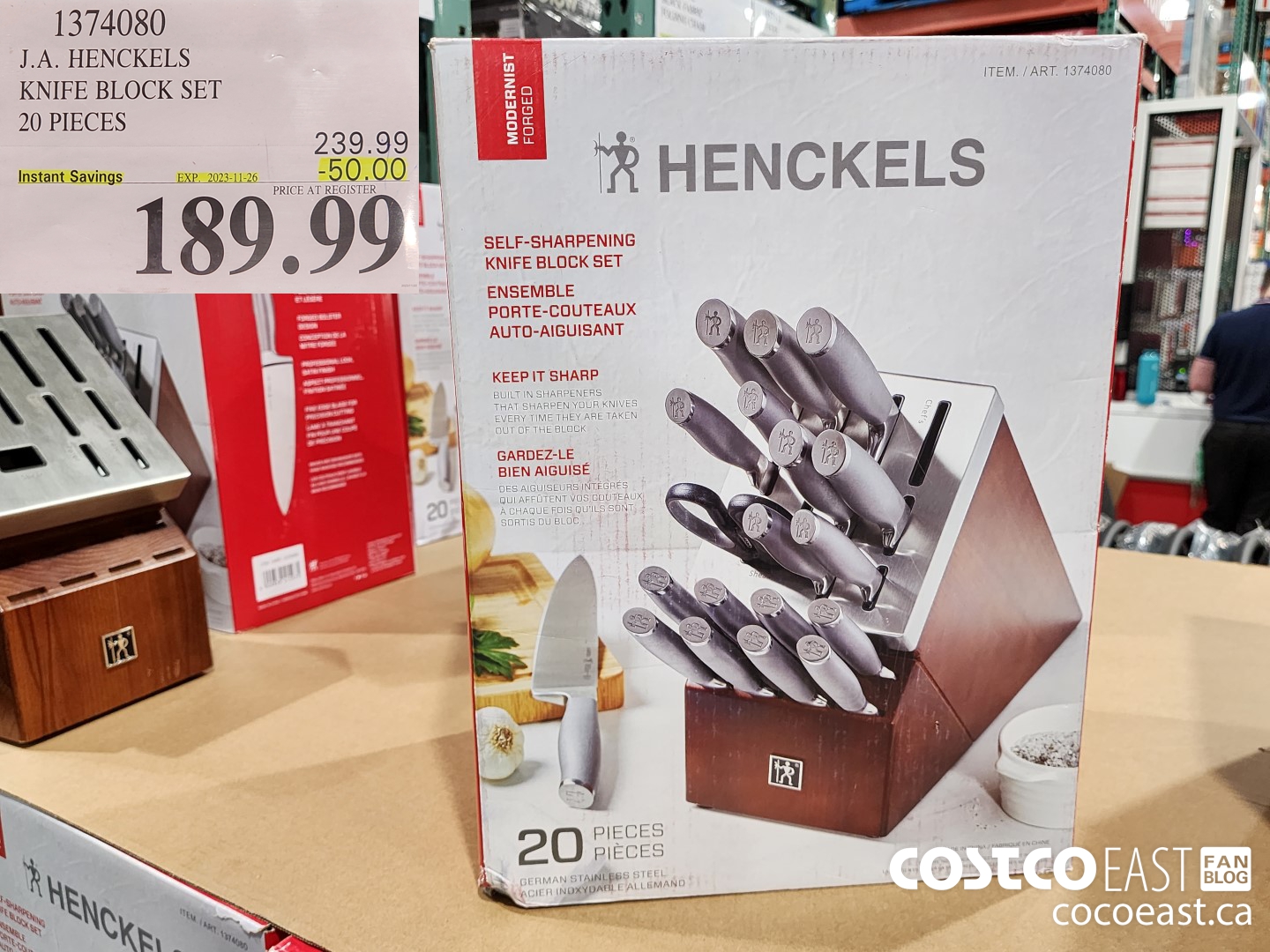 The nice thing about this block is that it's got a built in sharpener, so you never lose your edges!
Maybe you've got a nervous winter driver in your midst and want to make them feel at ease on their winter journeys, well this trio should satisfy just about anyone from nervous drivers to nervous parents!
I mean that pretty well covers everything you'd need right? Maybe a couple of redundancies, with the extra jumper cables but who knows when you might need an extra pair? (I suppose you could give those to someone else too, right?)
Holy Moly that only covers a third of the store!! I guess one last Honorable mention, then I'll let you go do your browsing… Who likes cold feet, raise you hands!
Exactly, no one… So why not give your feet a little extra comfort on your winter excursions with a slick lookin' pair of toasty heated socks!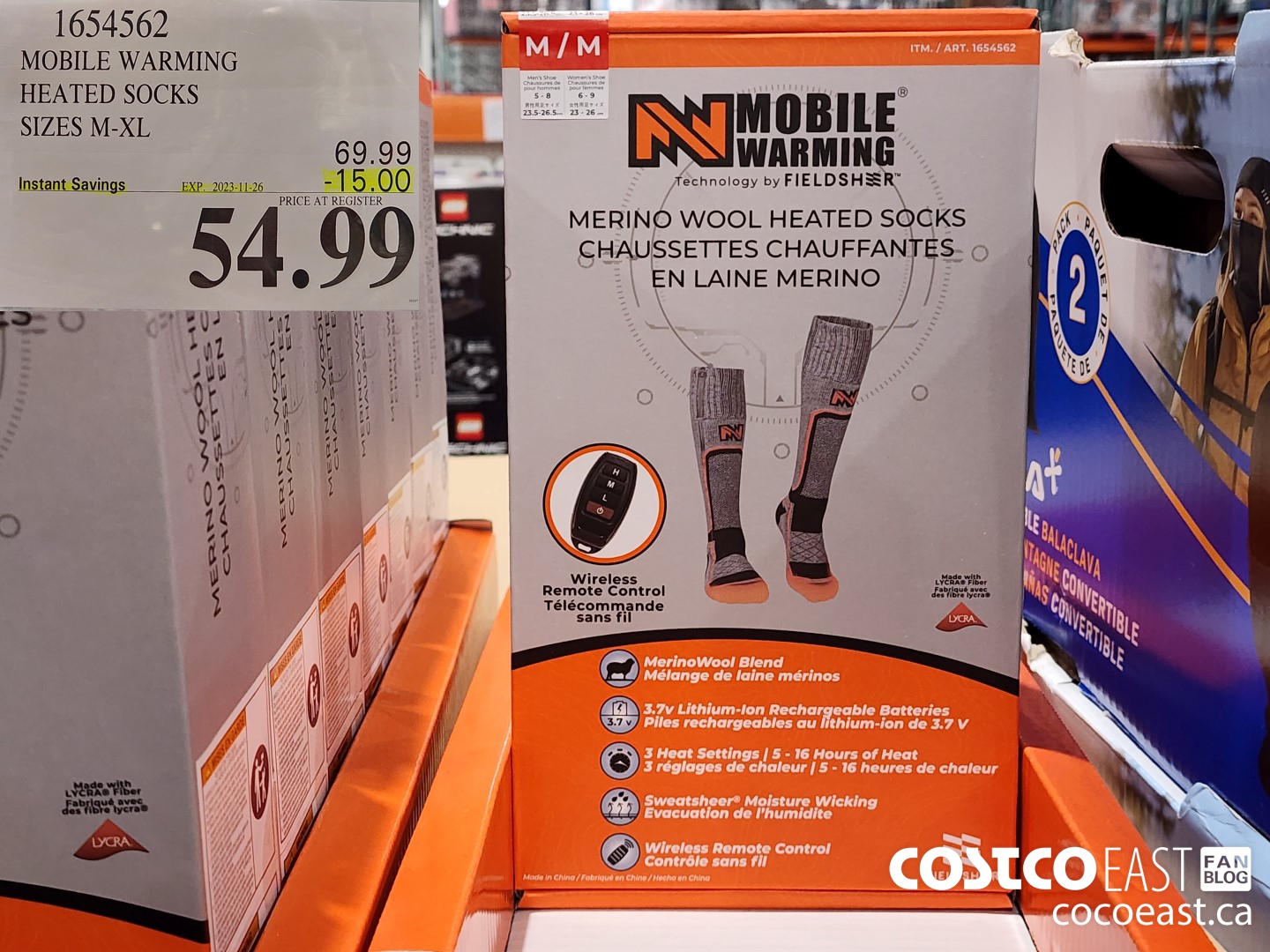 I run hot most of the time, but I'm OK with having extra warm feet vs. cold or frozen feet!
Ok, that'll do it folks! As I said, there's a lot of browsing to get in with this post so I'd better let you get to it.
Cheers!
!!!CONTEST TIME!!! THIS WEEK I'M GIVING AWAY A $50 COSTCO CASH CARD!!!

To enter this week's contest for a $50 Costco Cash Card just comment on this weeks Facebook or Instagram Post with your favourite Costco Food Court item! Links to the posts are below.
Good luck everyone!
No purchase necessary. Contest ends Sunday, Nov 26th, 2023 at 11:59 pm. Open to Residents of Canada, 18+ Conditions apply. 1 entry/person. Correct answer to math skill-testing question required. Contest is not sponsored by Instagram® / Facebook®.
Winner will be announced via this blog & Instagram® / Facebook® on Monday, Nov 27th, 2023 by 9:00 PM (ET). Winners will be contacted no later than Monday, Nov 27th, 2023 at 11:00 PM (ET) to claim prizes.
Don't forget to check in with Rhonda over at the Costco Quebec Fan Blog and see what fun sales are happening there!
Costco Black Friday Flyer Sales Nov 20th – Nov 26th 2023

Costco Treasure hunt sales Nov 20th – 26th 2023