The Costco East fan blog is excited to partner with @karen_phytoplankton to share this NEW product found at ALL Costco locations across Canada (excluding Quebec) and also online costco.ca!!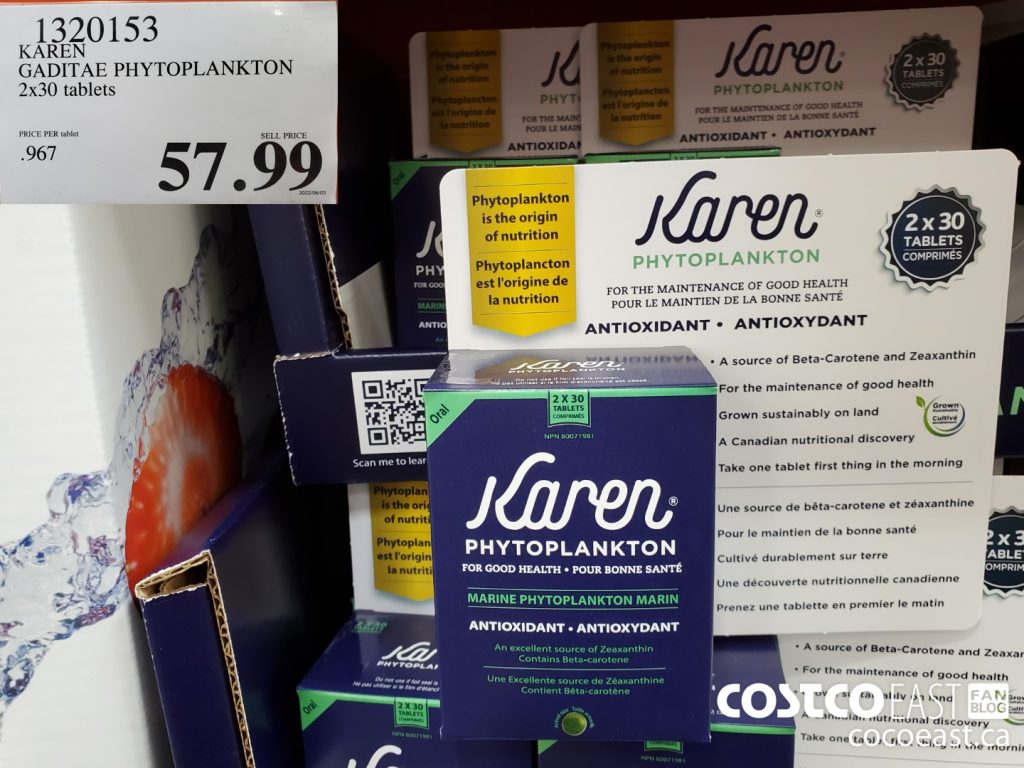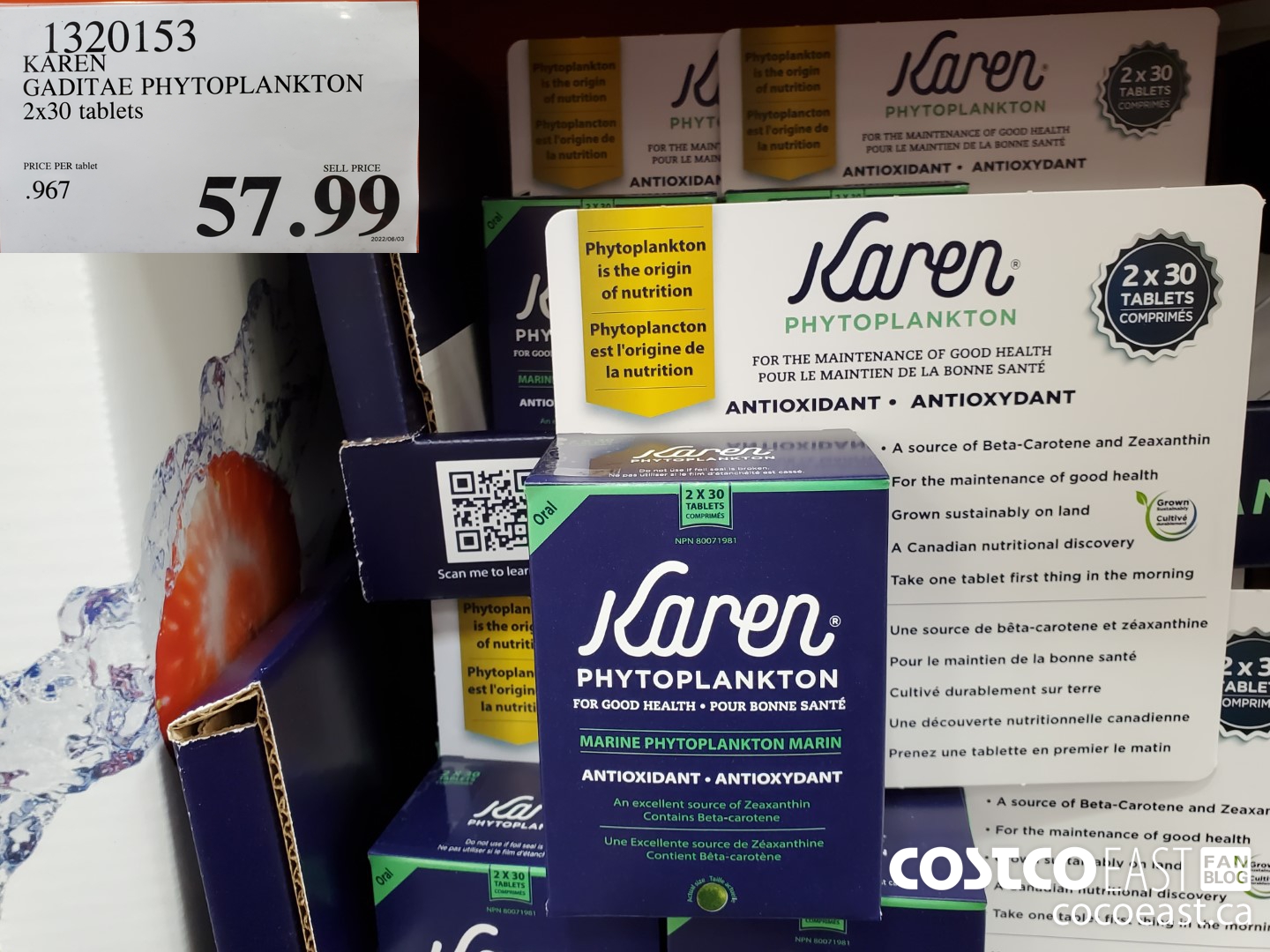 @karen_phytoplankton is a Canadian company and a leader in Phytoplankton which is the origin of nutrition! This supplement is an excellent source of Zeaxanthin which is a great nutrient for eye health, rich in Beta-carotene for healthier skin and an immune system boost, and is packed with Antioxidants.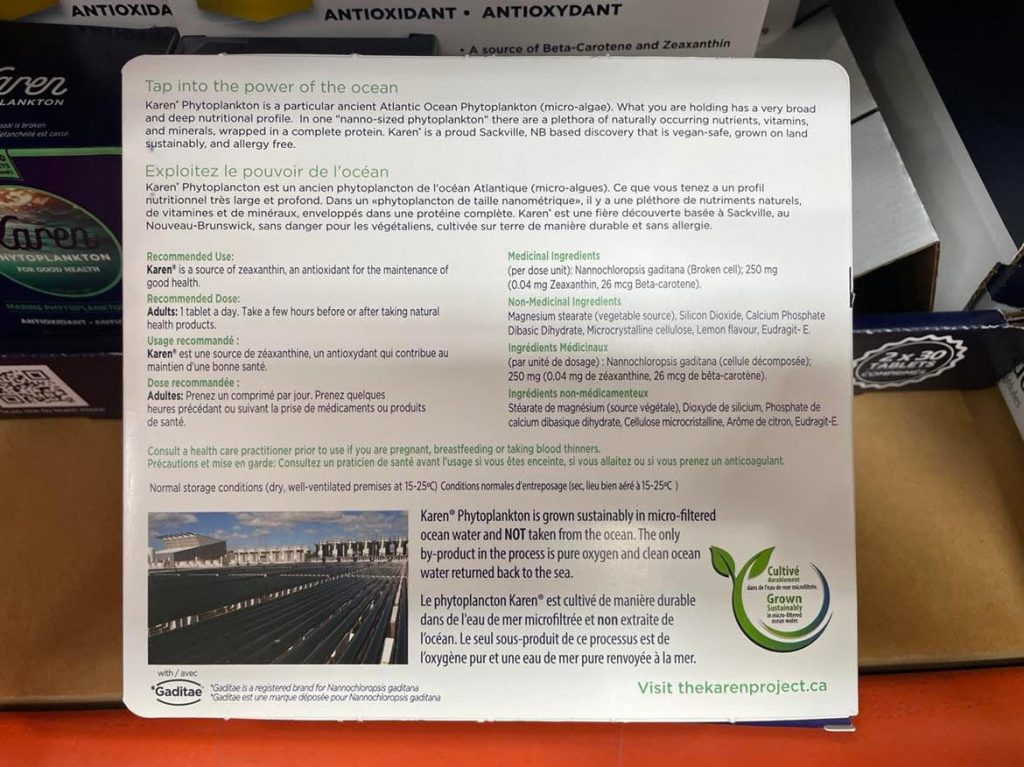 I've been taking Karen Phytoplankton for over a month now and I absolutely feel the difference in my energy levels. A little more pep in my step! A friend of mine started taking them them as well, and she said, "I noticed a change in my overall gut health. Being on holidays I was not eating the best yet I felt better than I typically would. Karen Phytoplankton was the only change to my vitamin routine, so I'm sticking with it."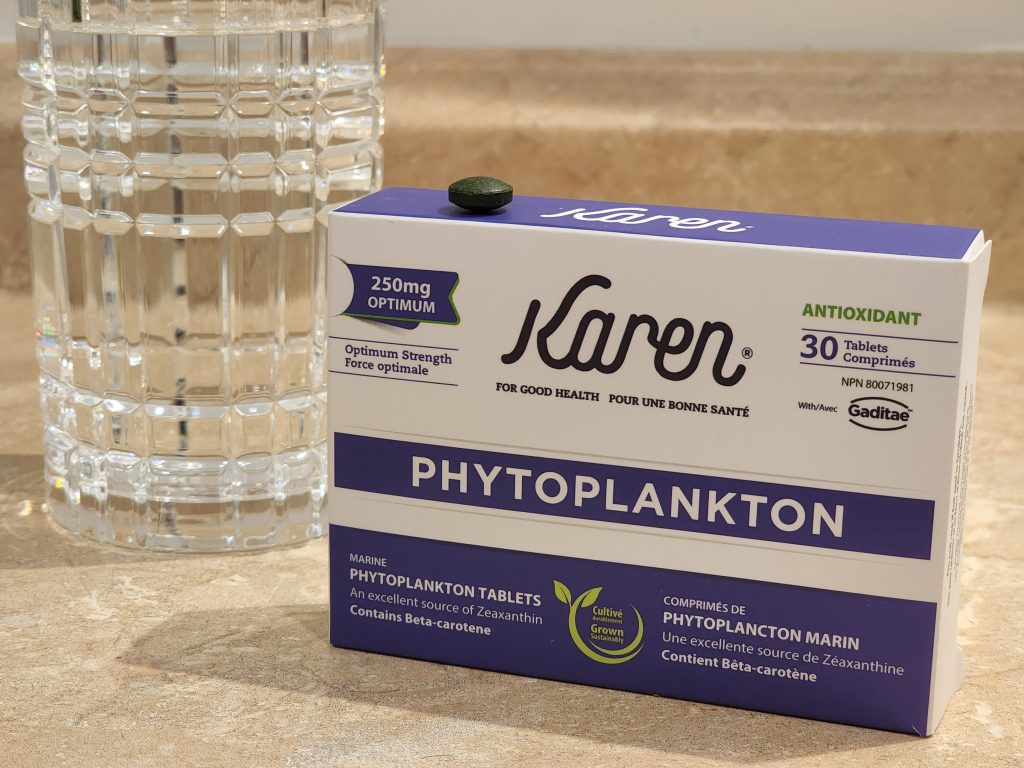 These supplements have definitely become a part of my vitamin regimen as well, and will continue to be! They're available at Costco for $57.99 in store or $59.99 online for a 2 month supply.
Read to the end of the blog to find out how you can be entered to win a $100 Costco cash card & Karen Phytoplankton prize pack!
If you'd like to skip ahead to the comments section, click here!
Welcome back everyone!
Costco kicked off a new 2 week flyer today, so there were lots of new items to check out for me today.
Of course starting out with Huggies Diapers & Huggies Pull-ups for $11 and $10 off!
They're on sale for a few weeks (until the 25th) so you've got a little bit of time to get all stocked up!
Kirkland Signature baby wipes are also on sale until the 25th for $5.00 off.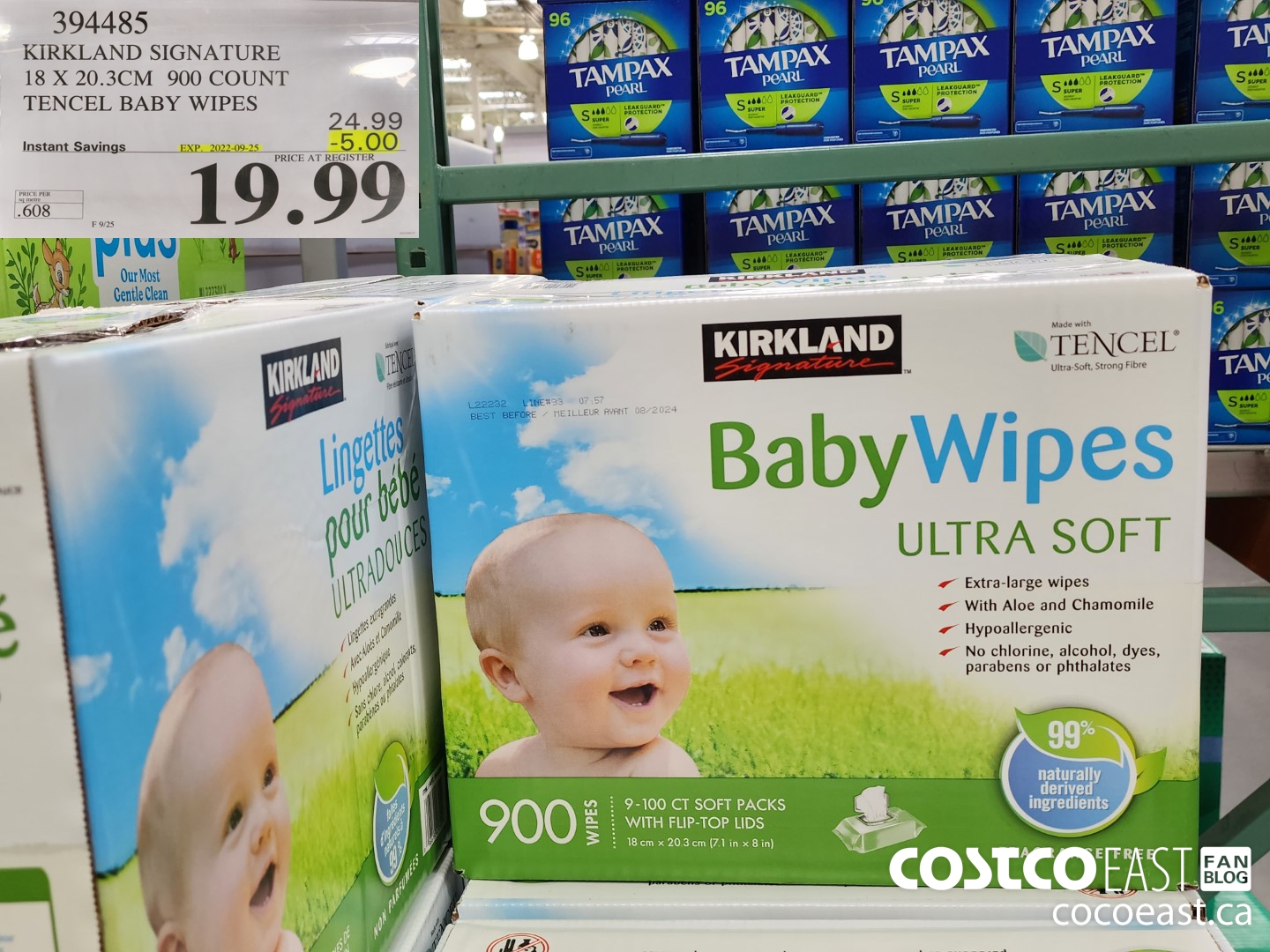 Another one to stock up on!
I remember a few weeks back they were handing out samples of the Summ! Vegetable spring rolls, and I actually went back for a second sample, so I figured while they were on sale for $2.50 off I'd better grab a box.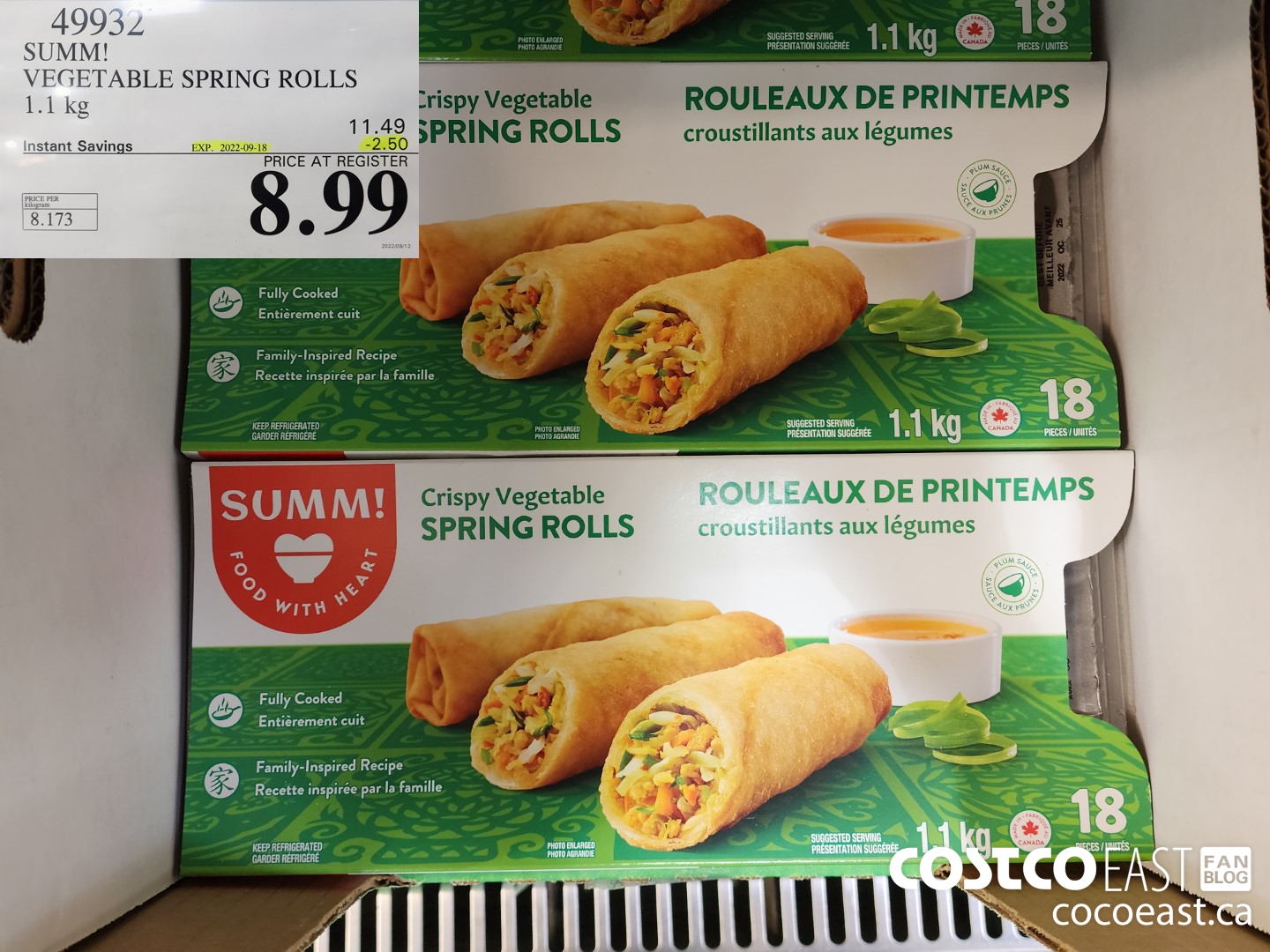 Of course they aren't gluten-free, so I'll have to eat them by myself and I'm not certain that I'll be able to get through an entire box before they go off… A perfect reason to break out the Food Saver and portion them out and freeze 'em!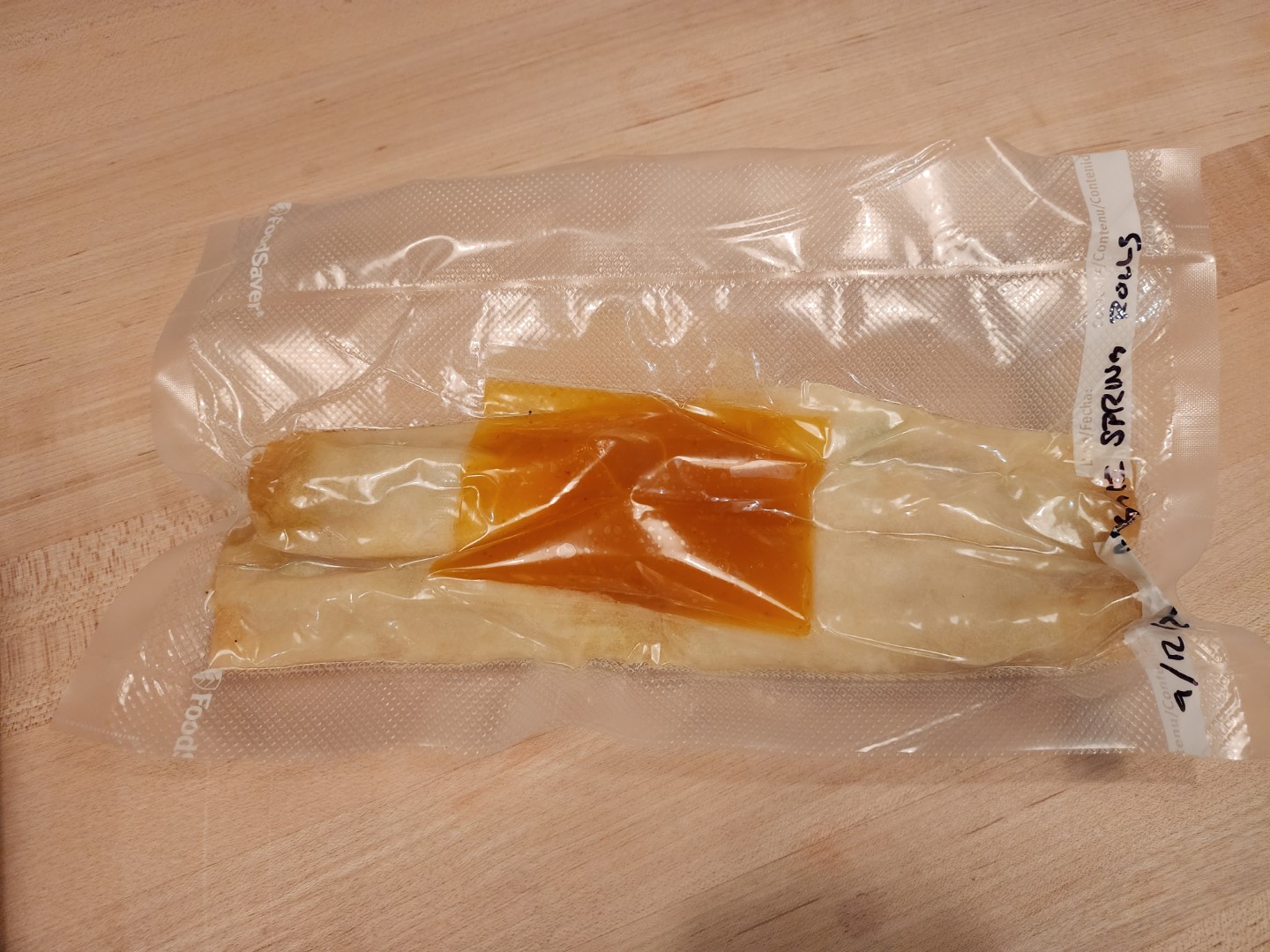 What you can't see in this picture is that the vacuum sealing process squished the rolls down quite a bit… What I should have done (and is mentioned in the instructions…) is frozen them first on a tray which will help them maintain their shape. So I did that with the rest and it worked out OK…
I'll just have one bag that'll be flat spring rolls.
I've also got some delicious roasted tomatoes and veggies from the garden that my Sister did up, another great one to freeze for sauce down the road! Learning from my mistakes I portioned these into the bags and set them in freezer for a bit, the amount of juice in them would prevent the Food Saver from sealing the bag properly. (As I found out from a failed attempt…) So those are in a holding pattern in the freezer until they're ready to go.
I had picked up a box of the Stoney Creek Market shaved beef au jus on Friday.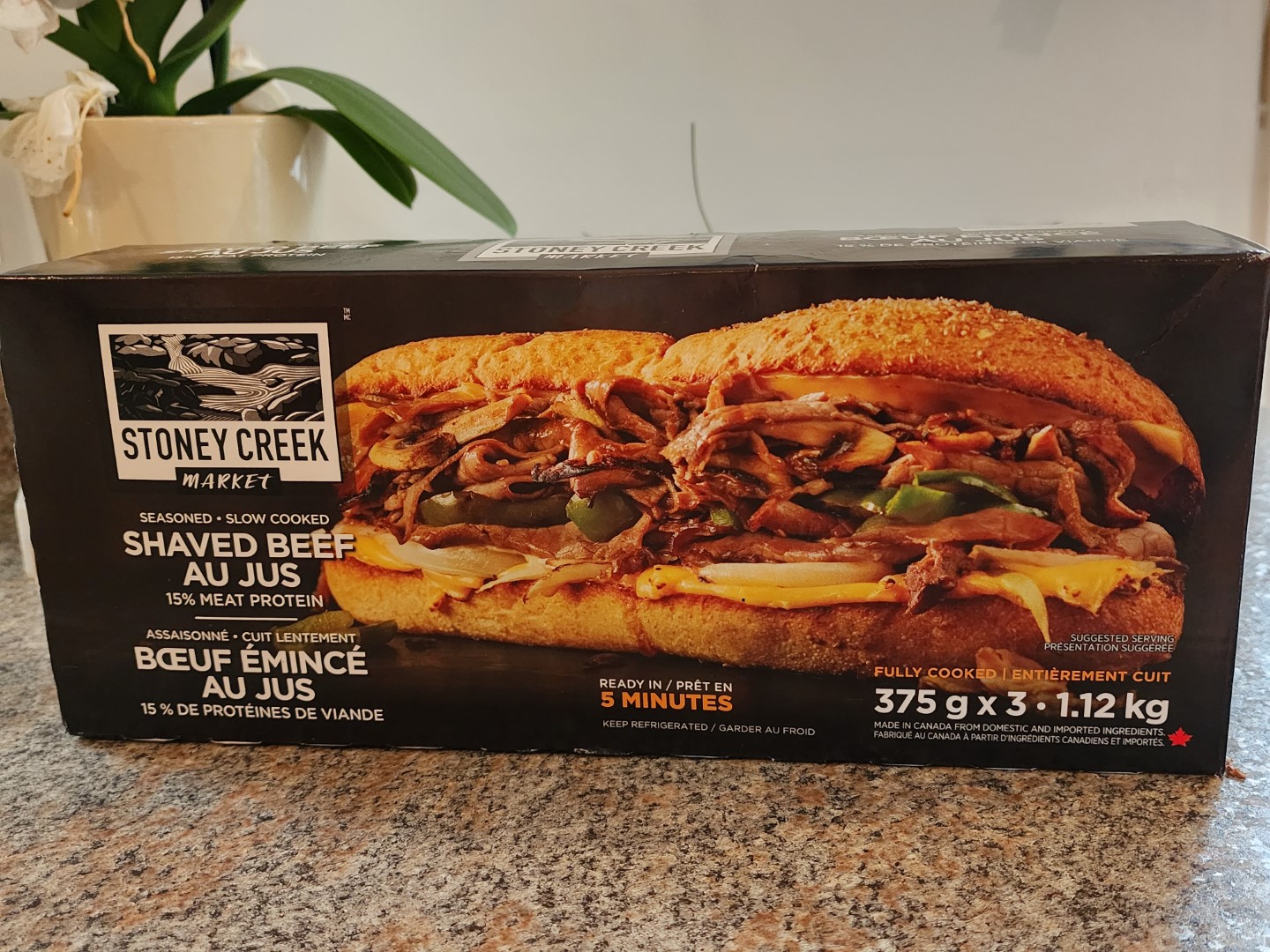 And while I've enjoyed a sandwich or 2 it's another one that I'll be tackling on my own, therefore- to the freezer with you!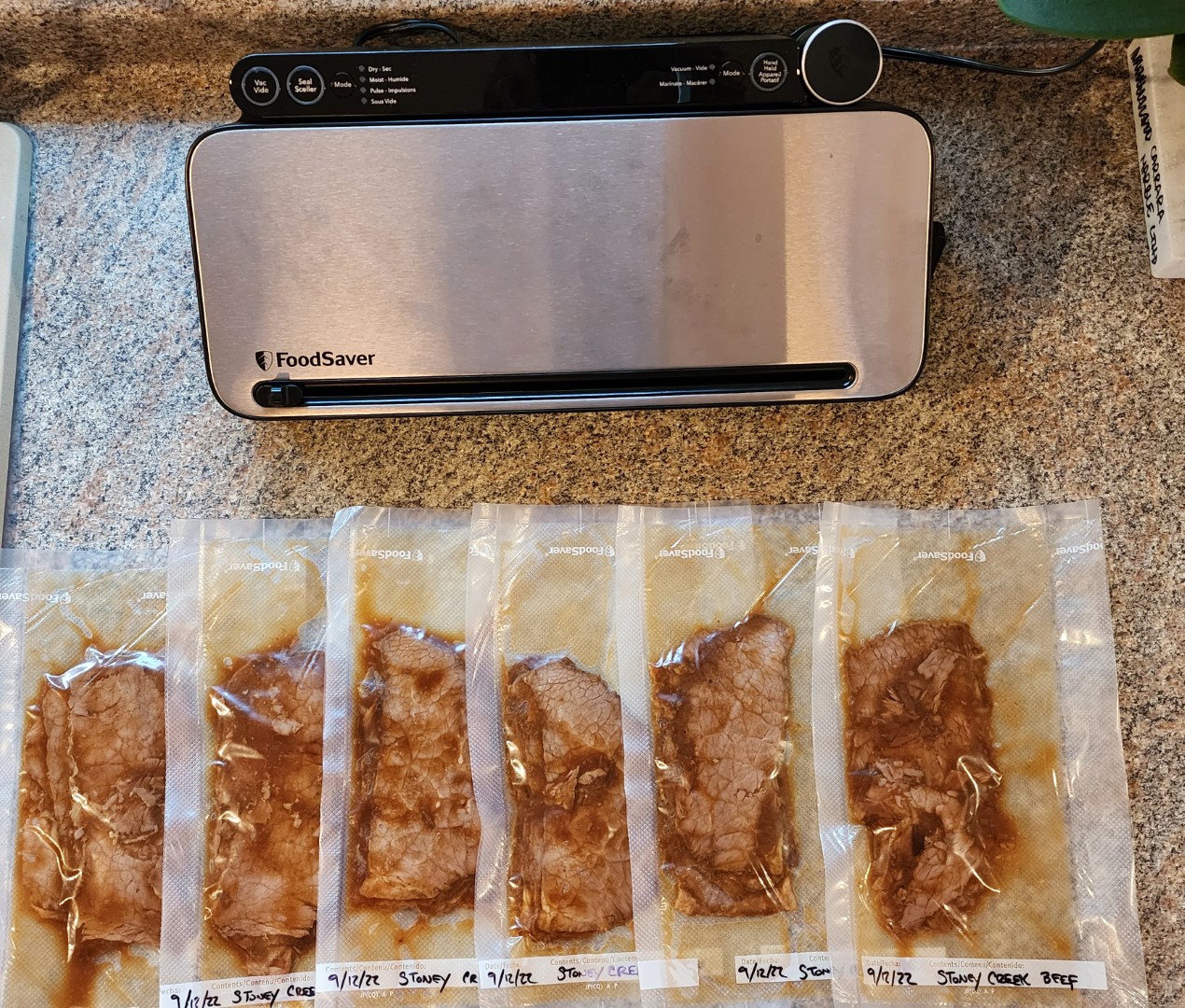 I portioned them out into about 5 slices per bag, which worked out to 3 portions from each of the bags in the box. (9 total per package) It'll be nice to have smaller packs like this frozen, they'll thaw faster and I won't have to worry about trying to figure out how to eat all the meat from one package in a short amount of time.
I'm so glad that I finally went for it and picked up the Food Saver, just can't believe I waited that long!
I'll leave it at that folks, but don't forget to take a second and read below to enter to win a $100.00 Costco cash card & the Karen Phytoplankton prize pack!
As always folks, Stay Calm and Costco On! I'll be seeing you soon.
!!!Karen Phytoplankton contest!!!
To enter to win a $100 Costco cash card & Karen Phytoplankton prize pack all you need to do is comment below with your favorite summer moment!
The winner will be selected on Thursday evening, and I'll be posting the winner in the Weekend update post on Sept 16th!
Conditions apply. 1 entry/person. Correct answer to math skill-testing question required. Winner will be announced via Facebook,Instagram & on this blog on Friday, Sept 16th, 2022 at 11:59 PM (ET). Winners will be contacted no later than Sunday, Sept ,18th 2022 at 2:00 PM (ET) to claim prizes.
***This is a fan run, independent page with no affiliation or endorsement by Costco Wholesale***
Please note: The price at your local Costco takes precedent (or precedence) over the prices listed on this blog. Costco liquidation/Manager's Special items (ending in .97) vary from store to store. An asterisk (*) on the price tag means the item is not being re-ordered.
If there is something you really want, ***double check the expiry date*** as some Costco sales items do end mid-week.
Costco Flyer Sales Sept 12th – Sept 25th 2022

Costco Treasure hunt sales Sept 12th – 18th 2022