I walk the whole store for you every Monday when Costco Sale items and Costco Flyer sales are released for the week, then post them here and on our Facebook page.
***This is a fan-run, independent page with no affiliation or endorsement by Costco Wholesale***
Please note: The price at your local Costco takes precedent (or precedence) over the prices listed on this blog. Costco liquidation/Manager's Special items (ending in .97) vary from store to store. An asterisk (*) on the price tag means the item is not being re-ordered.
If there is something you really want, ***double-check the expiry date*** as some Costco sales items do end mid-week.
If you'd like to skip ahead to the comments section, click here!
Welcome back everyone, and a happy belated Mother's Day!
I had my Mom and sister over on Sunday for an afternoon hangout and BBQ, and we tried out these Connies Kitchen chicken burgers. Thumbs up all around!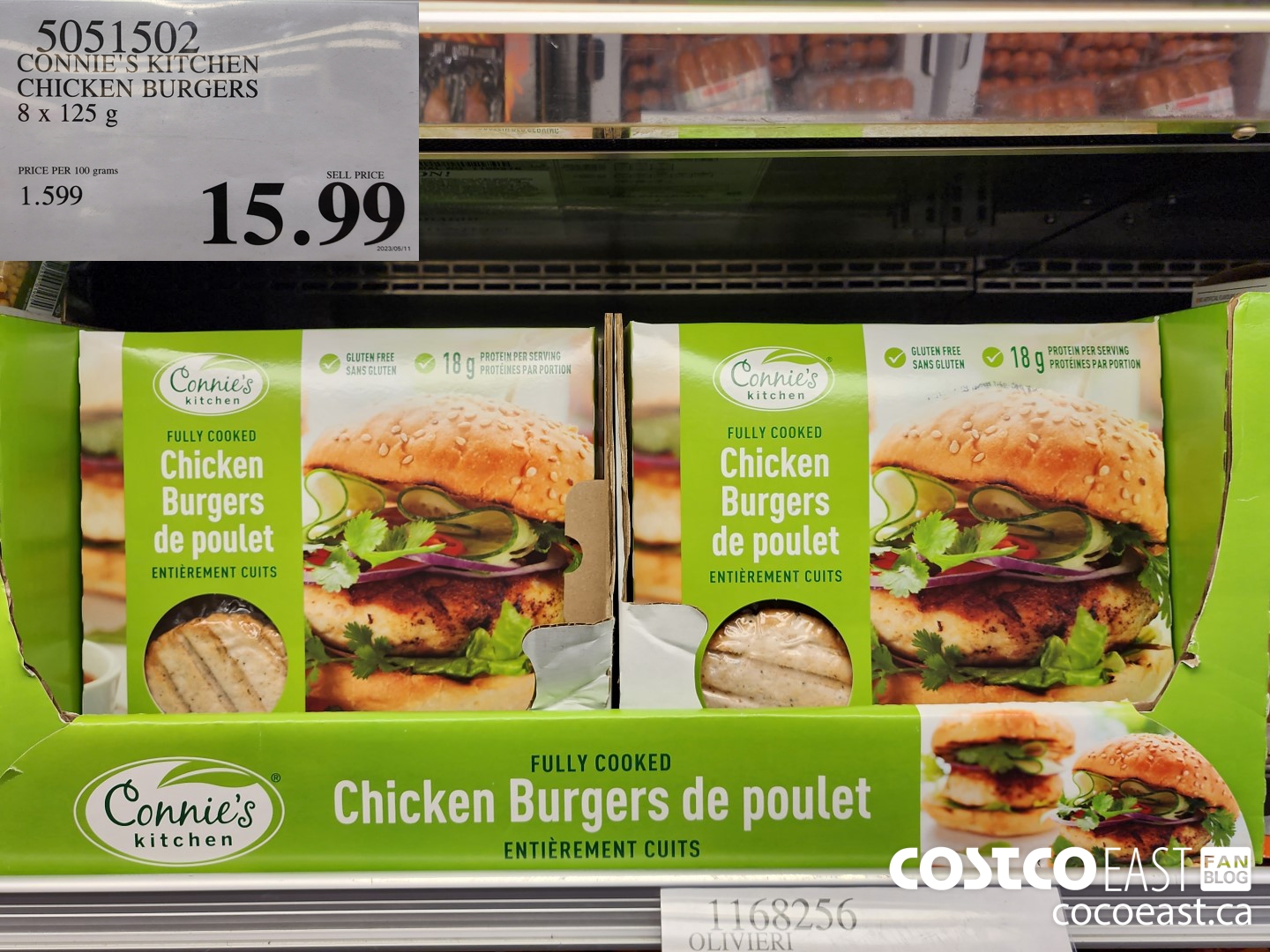 They tasted great, held up well on the grill, and the simplicity of the ingredients is always a plus.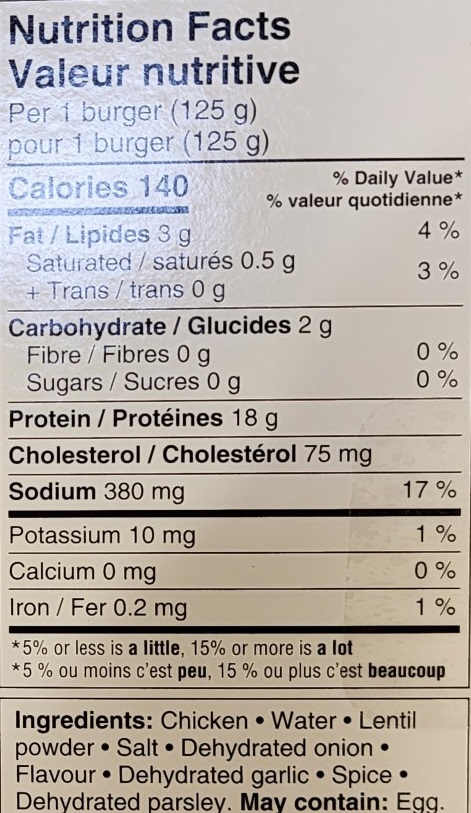 The sodium is a little high for 1 serving, but not too crazy .
It was a pretty relaxed Monday in Costco for the most part, but that's because everyone was out in the garden centre! To be fair the weather was gorgeous so I can't blame anyone for that…
Funny how certain things can remind you of your childhood, specifically summertime as a kid, so anytime I see these Jumbo Mr. Freeze (Freezies, as we called them) it takes me back to being a kid on Verne Crescent in Scarborough.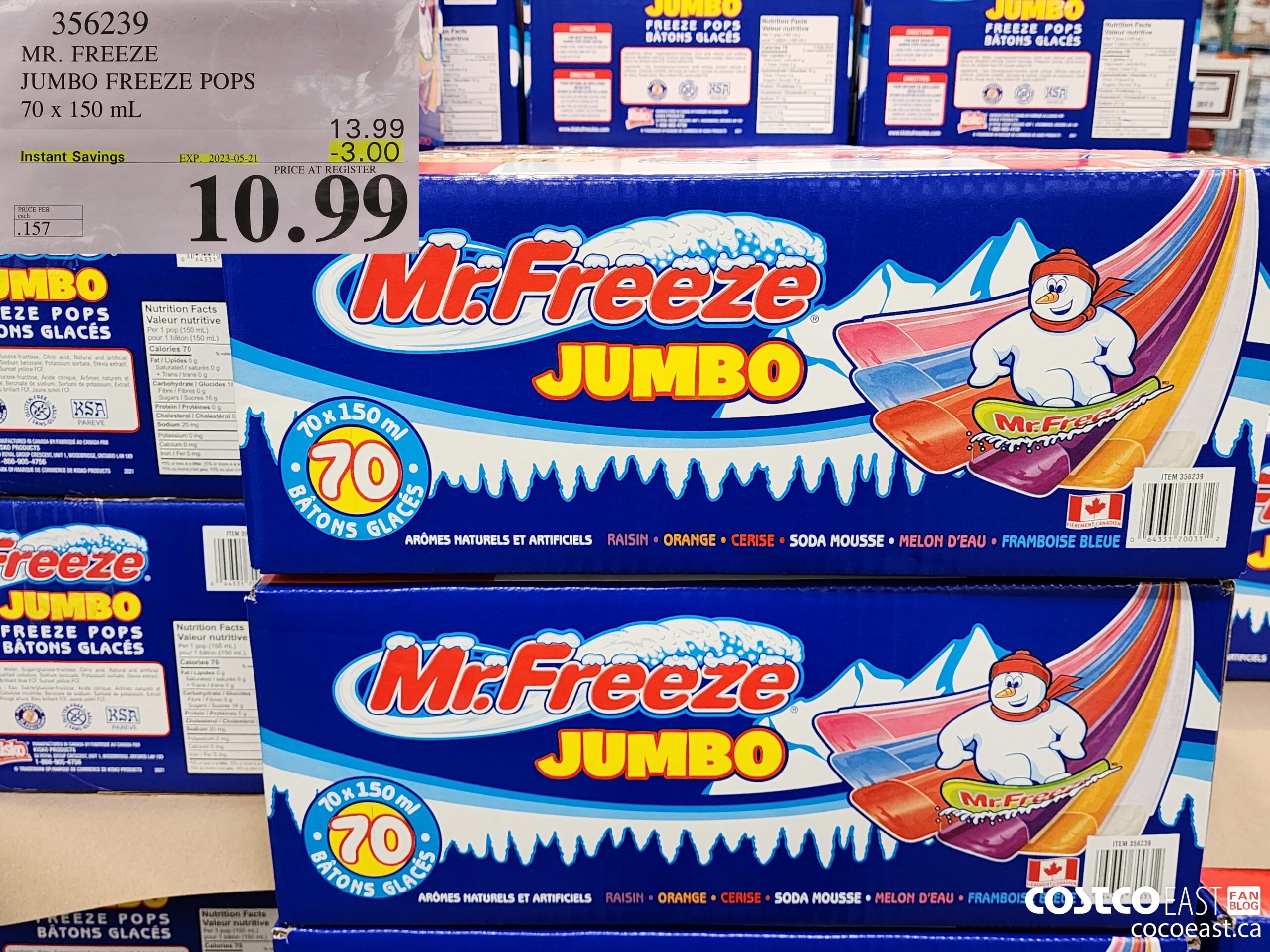 The only thing more summery sounding would be chasing the Ice cream man down the street for a peanut buster parfait… That was always my favourite!
Then again, how can you go wrong with Hot dogs and potato salad? You can't really! (I don't think!) And between Erie Meats original hot dogs, Dempster's deluxe hot dog buns, and Stonemill Kitchens red potato salad that pretty well sums up a perfect & easy summer dinner.
The problem with hot dogs is how to properly dress them & everyone has an opinion or a favourite on this topic… In my opinion, there isn't a wrong or a right, but what's best for the moment. Hot summer day, having a BBQ in a park with the family I'd say give it "the works"! Ketchup, mustard and relish. Walking the street in New York, you may be more inclined to go for some spicy mustard and sauerkraut (a personal favourite)… Then again, sometimes you just need to dress it with whatever strikes you. Want to add kimchi instead? Absolutely, why not? It's funky and delicious, just like sauerkraut but a little more spicy and, as I said, funky.
Anyhow… After solving the "problems" of how to dress up your hot dogs you could gather around the good 'ol classic picnic table and dive in.
Sounds good to me, the only thing missing would be an early evening baseball game.
Well, I'd say it's time to "call the game" and head home. It's been a long day, and you've got a fresh batch of goods to check out.
Have a great night/day everyone, and enjoy the sales. See you all soon!
Don't forget to check in with Rhonda over at the Costco Quebec Fan Blog and see what fun sales are happening there!
Costco Flyer Sales May 1st – 28th 2023

Costco Treasure hunt sales May 15th – 21st 2023