I walk the whole store for you every Monday when Costco Sale items and Costco Flyer sales are released for the week, then post them here and on our Facebook page.
Ah yes, yet another day in Costco paradise!
Even Ewok was enjoying his hot and steamy morning in paradise sleeping amongst his ferns.
Until I woke him up to come inside that is. Seems he forgot what I do on Monday mornings!
No line up when I arrived, perfect! The store wasn't super busy so (for the most part) the aisles were easy to navigate. Though I do often wonder where all the empty & abandoned shopping carts are coming from, anyone know the answer to this? I feel like the snack aisle and the Candy/protein bar aisles had at least 5 derelict carts just creating a maze for us all.
I'm also wondering if the candy/chocolate bars being across the aisle from the protein bars, shakes & powders is done on purpose. Look to your left, grab that box of Nestle chocolate bars and then look to your right where the RX Bars are just sitting there, staring you down, judgement written all over the box…
Maybe it's some kind of test to see what we do. I'll tell you this, I'm hitting both sides folks!
Let's take a quick look at a sample of the sales on this week at Costco.
Bayer Aleve 220MG 250 caplets -$5.00 @ $17.99
Huggies Natural care plus baby wipes 16.8 x 19.5 cm -$5.00 @ $23.99
Lysol toilet bowl cleaner 4 x 946ml
Glaceau vitamin water variety 15 x 591ml -$3.50 @ $13.49
Brandt Bratwurst sausage 900g -$2.50 @ $9.49
Excel variety pack, pack of 27 -$3.30 @ $13.49
Van Houtte house blend K-cups 80 count -$6.00 @ $33.99
Apple Watch series 6 GPS 40mm silver -$60.00 @ $458.99
Thank you for your comments about the improvements you'd like to see made.
For Jan in Waterdown we are working on that search function! I think when I last checked there were approx. 70,000 plus items that needed to be entered and I think the fine folks working on it we're roughly halfway through… So that is absolutely something we're working on for the future. As for the comment & reply notification I'm not certain how that works, but I'll check in with my counterpart out West and see if that's possible.
Robette was asking about a "province tab" as some items aren't available in certain areas. While this would be a great idea it would be very hard to implement as even within the provinces the items can be different from store to store. A great idea however!
Layla Bay asked about a "list" function with favorites and being able to print a hard copy. Layla a list function is in the works as well! This one will take time as putting that feature together involves a lot of work, but rest assured we are working towards making that a possibility. (and early sale notifications and receipt scanning to check for sales is something on the agenda as well!)
For Barb K asking how to sign up to the newsletter follow the sets illustrated below!
It is that easy!
Speaking of the email notifications, if you didn't see the post from the other day here's some important info for you regarding your E-mail notifications.
NEWSLETTER UPDATE
We have successfully migrated our newsletter to a new service, since our previous service (Google Feedburner) is ending this month.
The only problems is that many of these E-mails are being directed directly to SPAM folders. Please check your SPAM folder to see if the newsletter is being sent there instead! The E-mail will come from Costco East Fan Blog (info@cocoeast.ca)
If you use a service like Gmail, Yahoo, or Hotmail, please check off the "not SPAM" button so that these mail services know that this E-mail is NOT SPAM.
You can also add info@cocoeast.ca to your E-mail address book. This way your mail provider will know not to send these E-mails to your SPAM folder.
Oh, and in other news I got my second COVID vaccine on Sunday July 4th!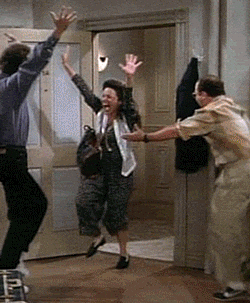 I'd dance around like those guys but my left arm feels like it's full of lead so I'll just stick to not dancing… I know my weaknesses.
So yes, second shot of Moderna. So far only side effect is the very sore arm so let's hope it stays that way. (I'd heard drinking lots of water helps so I think I had about 12 or so pints of water… I think it helped a bit)
On that note I'm going to go and continue to enjoy this crazy thunderstorm before I crawl into bed. I love a good 'ol storm!
See you all soon, and thank you for all the comments and support!
*
COVID-19 vaccinations are ramping up across Eastern Canada, follow the links below to find out if you're eligible and where they are available in your Province.
Since we are still in the third wave of COVID-19 I think it's important to remember that we're not out of the corona virus weeds yet, and each province has their own Health recommendations based on the provinces individual risk assessment and I would recommend that you follow the recommendations for your specific province. Information can be found at the following websites.
Newfoundland COVID-19 information
New Brunswick COVID-19 information
Nova Scotia COVID-19 information
Go here for the latest Costco Coronavirus updates: https://www.costco.ca/coronavirus-response.html
So there you go, a little reading material for you.
Be kind, be safe and stay healthy!
Please note:
The price at your local Costco takes precedent (or precedence) over the prices listed on this blog.
Costco liquidation/Manager's Special items (ending in .97) vary from store to store.
An asterisk (*) on the price tag means the item is not being re-ordered.
If there is something you really want, ***double check the expiry date*** as some Costco sales items do end mid-week.
***This is a fan run, independent page with no affiliation or endorsement by Costco Wholesale***
Costco Flyer Sales
Costco Treasure hunt sales