Welcome to the Costco East Flyer Sales preview for Nov 13th – 26th 2023!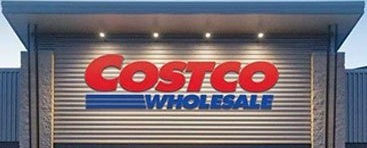 Please note:
The price at your local Costco takes precedent (or precedence) over the prices listed on this blog.
Costco liquidation/Manager's Special items (ending in .97) vary from store to store.
An asterisk (*) on the price tag means the item is not being re-ordered.
If there is something you really want, ***double check the expiry date*** as some Costco sales items do end mid-week.
***This is a fan run, independent page with no affiliation or endorsement by Costco Wholesale***
If you'd like to skip ahead to the comments section, click here!
Hey there folks!
Normally I'd be doing the Natalie reviews post tonight, but we got an email with an update on the Costco flyer sales so I figured better to put that up tonight to give you a chance to browse through and make your lists ahead of time! Natalie's food review post will be up tomorrow though, so don't fret!
Of the additions here, I know I'll be getting a few of the Sabatasso's G.F. pizzas to stock the freezer with.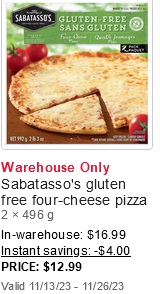 They are plain cheese, but lately when we've had them we've been adding peppers, onions, pepperoni and of course more cheese to them. I gotta say it does make a difference, and you can kind of jazz them up and add some of your own personality to them.
I'm generally pretty good about taking my vitamins, but one I haven't been good with is fish oil, or krill oil. Apparently krill oil is really good for you, so I'm going to make an effort over the winter to get better at taking these.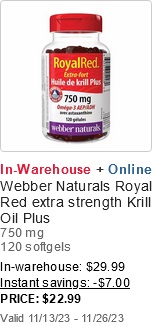 Hair, skin and nails… The 3 horsemen of many a persons apocalypse… I used to have great hair when I was younger, and never really cared or did anything to my skin or nails. Ahhh, youth… Now it seems like I'm searching for every tool in the shed to help with all 3, and while this may not be your silver bullet, it may help!
I don't know, could just be the genes at play and all the vitamins and minerals in the world might not change anything. But hey, I'll give 'em a try!
Anyhow, take a peek at what's waiting around the corner for you folks! I'll see you tomorrow with Natalie's review as well.
Enjoy!

Costco Flyer sale preview Nov 13th – 26th 2023