Costco Canada East Secret Sale Items – Oct 22nd – Oct. 29th – Ontario, Quebec & Atlantic Canada
I walk the whole store for you every Monday when Costco's Secret Sale items are released for the week, then post them here and on our facebook page.
NEVER MISS A POST! Join the Costco East Facebook group to get updated whenever I make a new post! https://www.facebook.com/costcoeast/.
ALSO you can come and see my Instagram feed with Pics of my weekly Costco shopping trips, Dexter and Ewok being lazy cats and pictures of things that I have cooked with anything I've purchased at Costco. You can find that here! https://www.instagram.com/costco_east_fan_blog/
Subscribe to website updates via email and you'll get a confirmation email from "FeedBurner Email Subscriptions". Click the link within it to activate your subscription and you'll be notified by email whenever I post (1 or 2 times weekly). Check your spam filter or contact me if you have questions or do not receive a confirmation email.
**** TO SKIP AHEAD TO THE SALES CLICK THIS LINK ****
Good evening Costco shoppers! I hope everyone had a great weekend full of fall activities, like raking leaves, tearing down patio furniture, getting cozy on the couch watching scary movies… You know, all the good stuff! We had a decent weekend, some house cleaning, picking out tiles for a bathroom reno (harder than you think) and watched a great documentary about musicians and their back-up bands. Work was pretty easy this weekend as I think the homecoming crowd chose other places to have their parties, and the university kids didn't cause any damage this year which is even better!
Costco was pretty easy today, not too busy either. I didn't have anything on my list really this week (which is dangerous because then I just wander and try to resist filling the cart with things I don't need) I did get one of those fire extinguishers this week (as I said I was going to last week) We do have a small one under the sink (as we know from last week it's not the first time I've needed one down there) but I felt like having a second one in the house isn't a bad idea. (just for peace of mind, plus $31.00 for a decent sized one? Kind of a no-brainer) That being said, I have no intention of starting another kitchen fire… But I didn't the first time either so there you go. (also that incident happened over 8 years ago, so long time ago)
Centrum Mulitvitamins are on sale this week (men's, men's +50, women's and women's +50) for 19.99 each, I've taken those before at various points and didn't mind them. But I think they're the powdery kind of pills- not the capsules and I really don't like the dry powdery ones, difficult to swallow and ya… No likey! (however those ones do blend up in smoothies easily)
Pedigree vitality dog food is on sale for $7.50 off putting it at $29.49 which is great! Stock up and keep 'ol Rover well fed for a long time.
(Who doesn't love Scooby-Doo?)
Cashmere premium T.P. is on sale this week for 15.99, (I'm a Kirkland brand fan myself) butt hey, not bad! (see what I did there?)
The Energy star sale is still going on, so L.E.D.'s and certain lighting fixtures are on sale still so a great time to stock up on energy efficient light bulbs.
A few meat sales from Kingston, ON. this week….
$6.00 off whole organic chickens is a great deal, I think that puts them at roughly 20-21.00 for a bag of 2. Fantastic! Right now my freezer is beyond capacity so there is no way in heck I could justify that… I suppose perhaps I should ummm, clean the freezer out? Maybe take stock of whats in there and cycle out the old stuff. Good idea.
(as an aside here, butter is still at $3.99 at the Kingston warehouse, hasn't budged in over a month now)
iTunes gift card $100 packs are on sale for $20 off, those are great stocking stuffers & gifts so now is a great time to plan ahead and maybe grab some of these.
Terra men's thermal socks are on sale for $3.00 off for a 3pk, reminding us that colder temperatures are just around the corner. And who likes having cold feet? right, nobody.
The Canon T6i is still on clearance at my location which reminds me that I just dusted off my old Canon T3i and put it back into action last week. I really got into taking pictures a while ago, it's amazing the things you can capture and having a quality camera like that makes a huge difference. However I bought mine used for $200 a few years ago, buying an $1100 camera is an investment but man is it worth it! I kind of forgot how much fun it is. Maybe next week I'll post a few of the better pictures I've taken over the years.
Starbucks Cafe Verona K-cups are on sale for $7.00 off this week, I got my whole bean coffee on sale last week so I'm good… Plus I don't have a Kurig coffee maker. So there you go.
Has anyone tried that 44th street slow cooked beef pot roast? I didn't take a solid look at it and maybe it's just because I'm hungry, but it looked pretty tasty… Mmmmmmm, might have to get the crock pot out this week and make a big 'ol hearty stew of some kind. The weather has the kind of damp fall feel that calls for rich roasted veggies, or thick beefy stews… Roasted squash? yessir' I love roasted acorn squash! Cut it in half and put some maple syrup in the cavity, oh delicious!!! Or diced up potatoes, onions, carrots and parsnips in the bottom of a baking dish with a whole chicken resting on top? It's so easy and the veggies cook with the delicious dripping from the chicken.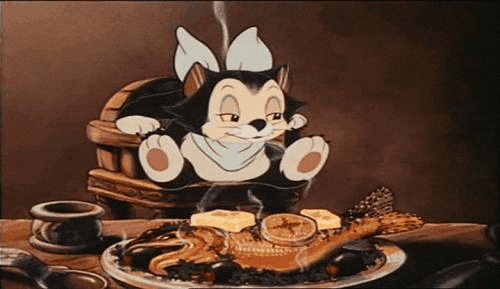 (I know the cat is sniffing a fish instead of the delicious chicken I was talking about but that's still how I feel)
I think maybe pasta is on the menu tonight… Seems to be a Monday kind of meal. It can still be rich and delicious but also pretty minimal commitment if there isn't time for a huge production in the kitchen. Although it certainly can be, I've made plenty of sauces that have taken a long time to get together, simmering them down until they're perfect- but it can be as simple as sauteing an onion adding some Italian spices and a can of tomatoes and boom!!! Pasta sauce. (though I tend to like a bit more substance than that) Ok… Pasta it is. On that note, I'm going to get cooking! Maybe some meatballs (for me) and a simple tomato sauce for tonight, keep it simple and get it done quick.
Well the work week starts tomorrow so I'm gonna bid you adieu, Nothing overly exciting planned for this week I don't think… Just trying to finalize some details for the bathroom reno. We're down to 2 choices for tiles which is good seeing as we've had a thousand different choices in and out of our place in the last few months so being down to 2 is great progress… Either small hexagons, or chevrons… tough call folks, tough call. Now we just need to get a new toilet, shower and sink and we'll be well on our way! No problem right? Hahahaha…
I hope you all have a great week, cook some amazing food and have a great time planning for Halloween witch by the way (get it!) is only 9 days away… I need to get off my butt and get some decorations out… yikes!
Ok, cheers everyone! See you all next week!
Please note:
The price at your local Costco takes precedent (or precedence) over the prices listed on this blog.
Costco liquidation/Manager's Special items (ending in .97) vary from store to store.
An asterisk (*) on the price tag means the item is not being re-ordered.
If there is something you really want, ***double check the expiry date*** as some Costco sales items do end mid-week.
The food brands available can differ from region to region. Pictures are taken at a store in Ontario. Sale items should apply to Costco locations in Ontario, Quebec, New Brunswick, Newfoundland & Nova Scotia, if the item is in stock at your store. There will likely be a few deals not shown here in your store. If this blog has helped you save money, consider sharing www.cocoeast.ca with your friends and family! If you see deals at your store that aren't on this blog, post them in the comments and help spread the money saving love!