Costco Canada East Secret Sale Items – Nov. 19th – Nov. 26th – Ontario, Quebec & Atlantic Canada
I walk the whole store for you every Monday when Costco's Secret Sale items are released for the week, then post them here and on our facebook page.
NEVER MISS A POST! Join the Costco East Facebook group to get updated whenever I make a new post! https://www.facebook.com/costcoeast/.
ALSO you can come and see my Instagram feed with Pics of my weekly Costco shopping trips, Dexter and Ewok being lazy cats and pictures of things that I have cooked with anything I've purchased at Costco. You can find that here! https://www.instagram.com/costco_east_fan_blog/
Subscribe to website updates via email and you'll get a confirmation email from "FeedBurner Email Subscriptions". Click the link within it to activate your subscription and you'll be notified by email whenever I post (1 or 2 times weekly). Check your spam filter or contact me if you have questions or do not receive a confirmation email.
Hello and happy Monday/Tuesday Costco Fans!
As most of you will notice (possibly) I made that bright blue "skip ahead" link a little larger this week.
Well Arnold, Someone commented that I posted too many pictures not relevant to the sales or blog. Thanks to another reader "Stef" for letting the person know that link is there, but perhaps it was a little too small? Now it certainly isn't to small, but is it too big??? What say you CocoEast readers?
Well I thought it was ok being small and bright blue, but I can understand if people haven't seen it before. Now it's loud 'n proud!
I'll list off a few sales going on right now just to ya know, get the sales on the board quick.
Gillette Fuzion 18pk cartridges $13 off @ 45.99
Aleve 250pk $5.00 off @ 17.99
Childrens Advil (liquid) $3 off @ 8.49
Finish Max dishwasher detergent 147 tabs $6 off @ 20.99 (yup!)
Kirkland signature E.V.O.O 1L bottle $3 off @ 10.99
Oceans flaked white tune (Albacore, which I love but someone else in the house only like the Skipjack) 6pk $3 off @ 10.99 less that $2 a can… that's a great deal.
Mikes super deluxe frozen pizza 2pk $4 off @ 12.99, I've had this pizza a few times and I like it better than most other frozen pizzas… Nothing beats a fresh one though.
Pepsi and Diet Pepsi $2.80 off at 8.99
Coke, Diet Coke and Ginger ale $2.80 off @ 8.45
Pomwonderful Pomegranate juice $5 off @ 7.99. If you've never tried this before, do it now. It is delicious! And if you find juices too strong try mixing it with a carbonated water (Galvanina from Costco is my favorite though I may have misspelled it, whoops!) I do that all the time.
Because I love bubbly water, but adding some tasty juice to it makes it extra awesome and refreshing! That's why Arnold… You have so many questions tonight, Jeez.
OK, that is just a taste of the plethora of great sales this week, all leading up to the big shopping weekend that is Black Friday (which I never, ever, ever go out shopping on.) I've worked in retail before during those crazy times and I gotta say, Heck no! Now I love a great deal and, yes Black Friday typically has better deals than you'll find all year BUT… I can't handle the insanity of it. It seems like every year you see videos and news about people getting trampled, and getting into fights over what? a T.V.? Forget it, not worth it, not happening, not standing in line at 6 a.m. for anything like that, and certainly not getting into a fight over something that's on sale. I remember that happening when I was 15 working at a Toy store in Orange County.
Good Question Arnold, I'll tell you. "Tickle Me Elmo" was released…(I can still hear that toys infernal giggle clear as day… Bad news folks, anytime you walk through a store and there is a display or toy with a "try me" button with sound and you "try" it… somewhere a staff member is tensing up and cringing) I swear it was absolute insanity, you would've thought someone dropped a 500lb burlap sack of $100 bills on the ground in aisle 5 and then someone put a leaf blower in the bag and blew the bills sky high like a giant money bomb… People argued and fought and went nuts (also blamed us for running out of stock) over a stuffed animal that laughs when you tickle it!!! I'd rather sleep in and avoid the crowds. Anyone out there have a crazy story about that they'd like to share???
Anyways, yes the blog is up late tonight folks, sorry about that. (resisting the urge to put another Arnold in here asking Why?)
My days have been very busy lately having taken on some extra work painting it has been double duty with that and the restaurant. 11 hour days here, 13 hour days there, working both on Thursday and Saturday… I tell ya, I'm exhausted! Plus I still have this stupid cold hanging on, though it never progressed into a full blown sore throat (thank god) and so far hasn't progressed into a sinus infection or anything else (yet, fingers crossed) I'm hoping that I didn't wear myself down too much with all the work. Oh well, I finished the paint job today just in time to make it to Costco before 7pm which, by the way, is a fantastic time to be shopping at Costco! It's so quiet and there's so much room in the aisles, I loved it!
Although I somehow managed to spend more than I planned on…(Typical Costco) That makes 2 weeks in a row, tisk tisk. Gotta watch the budget ya know. But you can't blame me for getting these.
I drool a bit everytime I walk past them, so being for sale (and hungry) my brain didn't really do an evaluation of this being a good purchase and just made my arm pick it up and move it to the basket. I have zero regrets about his though as I ripped the bag open as soon as I got in the car… Heck I didn't even turn the car on first to warm up, I just dove into the bag. I made the right choice, these are ridiculously delicious.
One thing I looked at though was Cod Liver Oil.
I've been wanting to add fish oil to my supplements but am not really sure which one to go for. I knw the Royal Red Krill oil is good for you, but I can't seem to get that stupid Cod Liver Oil song from public school out of my head (sorry the Song itself isn't stupid, I'm just amazed that everytime I see the words "Cod Liver Oil" I'm whisked back to grade 4 (5 or 6??) music class. Crazy I know. Anyhow, anyone out there take that or any other fish oil supplement that they would recommend trying out?
Speaking of nostalgia, I saw this Gem today at Costco (duh!)
The full collection of every single Calvin & Hobbes every put down on print. I loved, and still do love, Calvin & Hobbes. I'm fairly certain I have all the books (I think) and still flip through them from time to time. I just love everything about it. The drawing itself is fantastic, Calvins little dinner roll looking shoes, the Transmogrifier cardboard box, the Bully who looks like he has a Ramones-esque haircut that covers his eyes. All of it great! And the messages are usually pretty excellent as well, though not hammered down your throat, but really well placed and timed and never overpower the fun of the comic. I may have to get that next time I'm in the Costco vicinity. I may have to read some tonight!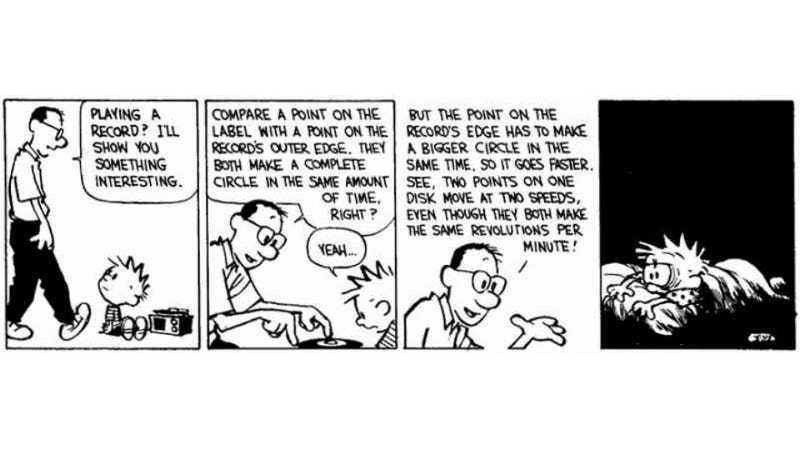 Hahaha, I love it. Sorry folks, bear with me… The snowmen kill me!
Ok, Ok, Ok! That's all for now I promise. Any other fans out there??? I'm assuming I'm not alone here…
So I was going on about Christmas last week, and I have kept up on my spirit in the last few days. I got a live wreath and some Christmas cards from Loblaws 2 days ago. I really want to get my cards out on time this year although I guess with the Postal strike happening right now we may all be a little delayed??? Either way I want to be ahead of the game! I have watched one Christmas movie already, "A Charlie Brown Christmas" It's so great and classic, and I always love the music! The Vince Guaraldi Trio is fantastic and of course provide the classic "peanuts" theme and some Christmas classics as well. That LP would be a great Christmas idea… (hint hint hint)
I also got 2 cute little mini-pine trees at Rona that are decorated with little silver balls and sparkles. Which I didn't take a picture of, but one of them is right next to me so it knows I'm including it. I'll keep my Christmas chatter to a minimum this week for your benefit. But in the coming weeks I'll step it up a notch (as Emeril would say) so if you don't want to read about it, use the dreaded skip button up top.
Well, I'm guessing if you havn't skipped ahead already you're probably sick of reading and ready for the sales right? OK then, fine. I'll let you have your sales…
Just know, I'll be back next week with more… More sales, more Christmas chatter, probably pictures of my cats (I'll try and get Dexter this time) and who knows what else!
Ok folks, have a wonderful week and hopefully I don't have any recall notices to deliver this week… Those suck!
Cheers!
Please note:
The price at your local Costco takes precedent over the prices listed on this blog.
Costco liquidation/Manager's Special items (ending in .97) vary from store to store.
An asterisk (*) on the price tag means the item is not being re-ordered.
If there is something you really want, ***double check the expiry date*** as some Costco sales items do end mid-week.
The food brands available can differ from region to region. Pictures are taken at a store in Ontario. Sale items should apply to Costco locations in Ontario, Quebec, New Brunswick, Newfoundland & Nova Scotia, if the item is in stock at your store. There will likely be a few deals not shown here in your store. If this blog has helped you save money, consider sharing www.cocoeast.ca with your friends and family! If you see deals at your store that aren't on this blog, post them in the comments and help spread the money saving love!