Join me for a preview of the Costco flyer sale preview for Jan 31st – Feb 27th 2022. I've posted the entire flyer so we can plan our February 2022 shopping trips!
*
*
*
If you'd like to skip ahead to the comments section, click here!
Welcome to the latest addition of the Costco Flyer sales preview!
The flyer just arrived in the mail, so I figured it'd be a great time to share it and help you plan out the next months worth of savings!
Top of the list for some of you will be the Huggies Pull-Ups training pants for $9.50 off.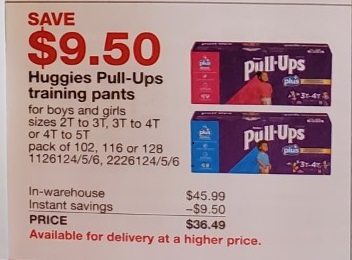 You've got a month to stock up folks!
Perhaps you're thinking that getting your pasta shelf in order is in the cards for the winter? If that's the case Chickapea organic spiral pasta is on sale for $3.00 off @ $8.99.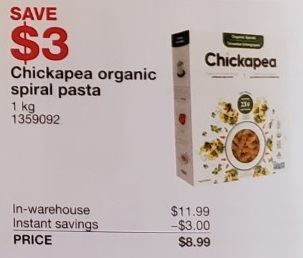 And Rao's homemade marinara sauce is on sale as well for $3.00 off @ $11.99.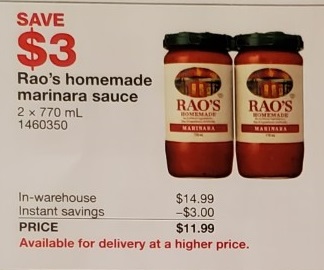 I know I still haven't lived up to my word and put the 2 heavyweight sauces in the ring together, but I will folks… I will…
Going from one noodle to another, Nongshim Tonkotsu ramen bowls will be on sale for $10.99 for 6 x 101g bowls.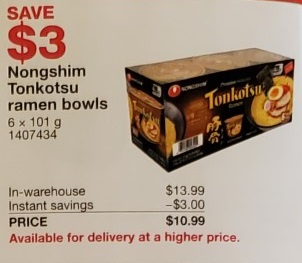 I think out of all the noodle bowls I've tried form Costco, this one is my favorite. The most flavor, the best texture of noodle… Really the "cooking" part is the same for all of them so I won't even comment on that part. (Add boiling water, add salty sauce/seasoning packets, wait 3-4 mintutes, eat, feel heart rate rise from sodium intake, done)
If you're into "fancier" canned Tuna then the Rio Mare tuna in olive oil should pique your interest.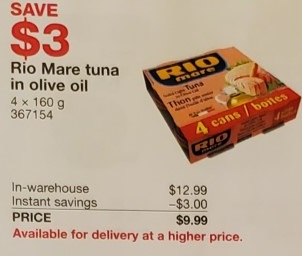 While it's on sale for $9.99, yes it works out to $2.50 a can, but it really is quite delicious and I'd say worth the money. It's just so much richer and more flavorful than the Kirkland Brand… There I said it!
A key to any good tuna fish sandwich is of course, Mayo. And there's no better mayo than Hellmann's. And the 1.8L jar is on sale for $6.99.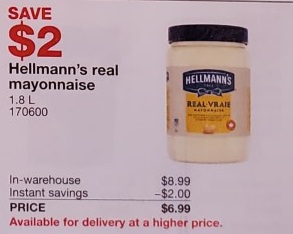 It's true, tuna sammies need mayo. And tuna seem to absorb mayo like dryers absorb socks. You put a full load of socks in you get like what, half back? Try putting 1 tablespoon of mayo into a can of tuna… Where did it go? Did the Tuna eat it?? Did I miss the bowl??? I swear tuna absorbs at least 3 times it's weight in mayo before it even becomes present in the mixing process. All that said, I always make sure we have plenty of Hellmann's kicking around for the inevitable Tuna Sammy, and sale time is a good time to do that.
The last item I'll look at is the Tramontina cast iron skillet pack of 2 on sale for a ridiculous $39.99. ($10.00 off)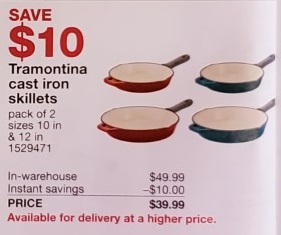 I have not seen these in person yet, but if you can grab 2 enamel coated cast iron skillets for 40 bucks, don't hesitate! These are usually workhorses in the kitchen and can go from stove top to oven in a heartbeat, and the coating makes cleanup and maintenance really easy! (just be careful what utensils you're using, metal ones can scratch these ones. Use silicone or wood)
With that I'll let you browse through and get your lists ready.
Enjoy!
Oh, and Ewok says hello and thanks for all the yoga pose names. He's considering them all quite seriously from his throne of blankets.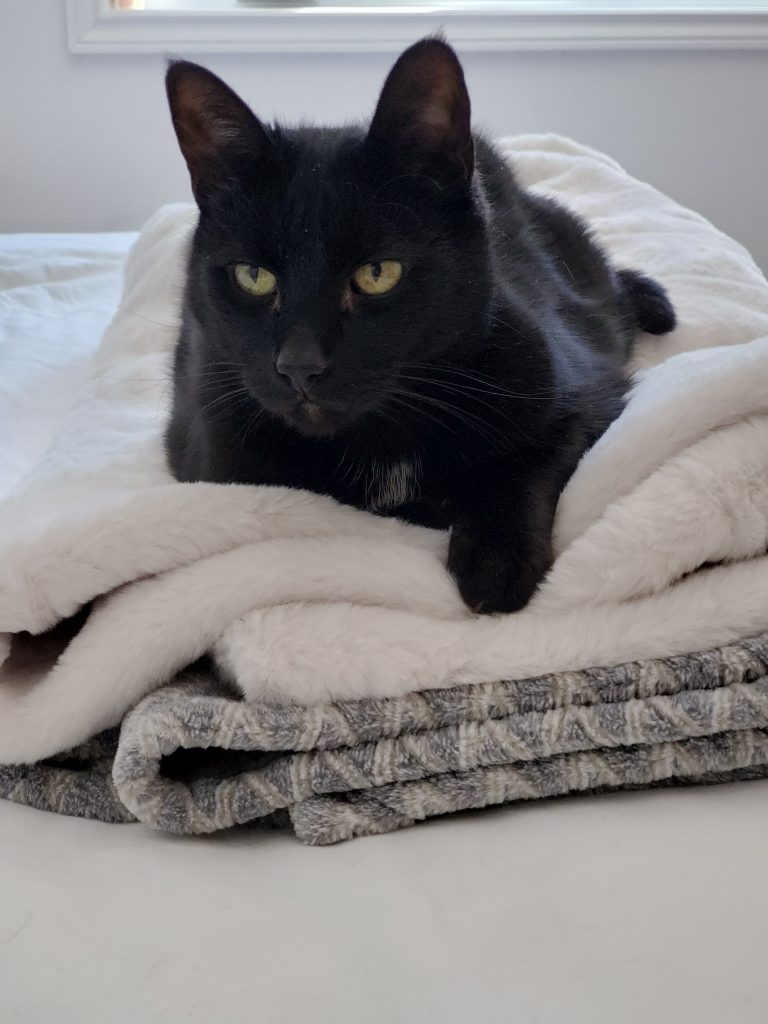 I'll leave it at that.
I think it's important to remember that we're not out of the corona virus weeds yet, and each province has their own Health recommendations based on the provinces individual risk assessment and I would recommend that you follow the recommendations for your specific province. Information can be found at the following websites.
Newfoundland COVID-19 information
New Brunswick COVID-19 information
Nova Scotia COVID-19 information
Go here for the latest Costco Coronavirus updates: https://www.costco.ca/coronavirus-response.html
So there you go, a little reading material for you.
Be kind, be safe and stay healthy!
Please note:
The price at your local Costco takes precedent (or precedence) over the prices listed on this blog.
Costco liquidation/Manager's Special items (ending in .97) vary from store to store.
An asterisk (*) on the price tag means the item is not being re-ordered.
If there is something you really want, ***double check the expiry date*** as some Costco sales items do end mid-week.
***This is a fan run, independent page with no affiliation or endorsement by Costco Wholesale***
Costco Flyer preview Jan 31st – Feb 27th 2022