Costco Canada East Secret Sale Items – Sept. 4th – Sept. 10th – Ontario, Quebec & Atlantic Canada
I walk the whole store for you every Monday when Costco's Secret Sale items are released for the week, then post them here and on our facebook page.
NEVER MISS A POST! Join the Costco East Facebook group to get updated whenever I make a new post! https://www.facebook.com/costcoeast/.
ALSO you can come and see my Instagram feed with Pics of my weekly Costco shopping trips, Dexter and Ewok being lazy cats and pictures of things that I have cooked with anything I've purchased at Costco. You can find that here! https://www.instagram.com/costco_east_fan_blog/
Subscribe to website updates via email and you'll get a confirmation email from "FeedBurner Email Subscriptions". Click the link within it to activate your subscription and you'll be notified by email whenever I post (1 or 2 times weekly). Check your spam filter or contact me if you have questions or do not receive a confirmation email.
**** TO SKIP AHEAD TO THE SALES CLICK THIS LINK ****
Ahhhh…. Well we made it. The Labor day weekend is over, the heat is breaking (a bit… yesterday was no fun though! Holy humidity Batman!)  Yes it seems that summer is over. School has started, The students have all descended upon our city again (and haven't destroyed anything yet!) And more and more seasonal items have shifted into the limelight at the stores. Autumn decorations, rakes, Halloween stuff, even (dare I say it) Christmas things are popping up (which is a little too soon I think… Wait till November at least!) I love all that stuff so I'm happy, but I know that lots of people are sad to see summer coming to a close. I just love that seasonal change, a reminder of time passing and to enjoy the time you're in before it's gone.
Dexter however…. well he likes the spring, summer and fall! because he can do this all the time.
So if you ever wanted to try cast iron pans but were afraid of the cost NOW is the time to try! The
Lodge 2 piece set
is on sale for 39.97 which is ridiculous for that much Iron. Trust me if you're a cook or a foodie or love longevity out of your purchase- try these out.  40 bucks is what you might pay for some run of the mill pans that won't stand the test of time… These ones will!
Still a few summer clearance items up for grabs though the number of them seems to fall week-by-week, so if you're in need of
solar lights
for the garden or pathways now is a good time (
38.99 for a 5 pack
), or stocking up on soccer balls… I don"t know why you'd need to- or if 9.97 is a good deal for a soccer ball but hey, they're there!
TONS of Halloween candy has hit the floor (and yes, if you're wondering I still have lots of candy left from last week!) only one is on sale though and as I said last week- the best one!
The Nestle favorites 120 pack
. delicious!
These fall planters are really pretty and seem to have some kind of peppers growing in them as well (I like that!) They are BIG though, so finding a space where it would fit properly would be essential but I would love to have a few of these around until winter.
What else, what else…. The
V8 28 pack of cans
is on sale now -which I've been waiting for- I love V8, and have for a long time. I have to admit though I have a bad habit… As much as we try and be really good about eating leftovers- we are actually- with big jugs of juices, well… Sometimes they get pushed to the back of the fridge and get forgotten about only to be dug up after a long time when the contents are either not recognizable or past their prime. That means when I buy the big jug of V8 inevitably it gets lost… The cans however, don't go missing in the fridge and are far easier to just grab and go. Plus I'm far more likely to grab these and bring them to work with me, really it's win-win.
Oh those
Argentia Ridge wine kits
are on sale still but now they have added 2 more red wines to the roster, Shiraz and Cabernet Sauvignon. (the later is more my speed, though Cotes-de-rhone is the clear winner though no Costco kits of that yet!) I really would like to try these kits to see how they stack up against our go-to wines here. It's a pretty big savings so it would be well worth it if the wine is close in quality. I mean those kits say they make 60 bottles… so math…. 63.99 divided by 60 equals… 1.06 per bottle… obviously there would be the cost of bottles but still even if you spent another 60 on equipment- still only 2.12 per bottle!!! That… my friends is a good deal.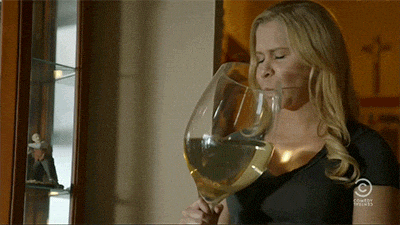 I think Costco has a glass that size… (Actually I believe it's much bigger)
Those Sony noise cancelling headphones… Anyone have 'em or tried 'em? I love music and listening to music a really good quality headphones is fantastic because you can close your eyes and totally get wrapped up in it. I have pair of Bose earbuds that are really really good, and great for the gym being low profile and they are really secure when you're bouncing around- but having a really good pair at home or for travel (blocking out engine noises, screaming children etc.) would be great so any info would be appreciated!
Well… Don't think I've got anything else for you this week… It's late and dinner coma is setting in, so I'm gonna let you all go and enjoy your sales.
Have a good week everyone!
Cheers.
Please note:
The price at your local Costco takes precedent over the prices listed on this blog.
Costco liquidation/Manager's Special items (ending in .97) vary from store to store.
An asterisk (*) on the price tag means the item is not being re-ordered.
If there is something you really want, ***double check the expiry date*** as some Costco sales items do end mid-week.
The food brands available can differ from region to region. Pictures are taken at a store in Ontario. Sale items should apply to Costco locations in Ontario, Quebec, New Brunswick, Newfoundland & Nova Scotia, if the item is in stock at your store. There will likely be a few deals not shown here in your store. If this blog has helped you save money, consider sharing www.cocoeast.ca with your friends and family! If you see deals at your store that aren't on this blog, post them in the comments and help spread the money saving love!